Afcons Infrastructure – SAM India Consortium today commissioned Robbins TBM 215-323 at Agra Fort's Ramleela Maidan for constructing the 29.40 km Agra Metro Phase 1 project.
Nicknamed TBM Yamuna, this Ø6.52m diameter and 95m long Earth Pressure Balance (EPB) machine is one of 4 TBMs that will be deployed to construct 14.25 km Line-1's 7.93 km Package AGCC-02 between RBS College Ramp – Taj Mahal Ramp.
As I wrote earlier in 2022, this refurbished machine had previously been deployed by CEC-CICI JV to build Jaipur Metro Phase 1 project's 2.35 km Package UG-1B. Following its final breakthrough in 2017, it was brought to Robbins' yard in Gurgaon where it was extensively refurbished and passed factory acceptance tests in October 2022.
Tunneling works were kickstarted by Uttar Pradesh's Chief Minister Aditya Yoginath.
In Agra, TBM Yamuna along with another refurbished machine, TBM Ganga, will build roughly 3 kms of tunnels of the city's 6 km priority corridor (Jama Masjid – Taj East Gate) with an aim to become operational by August 2024.
Uttar Pradesh Metro Rail Corporation (UPMRC) had awarded Afcons – SAM Consortium with Package AGCC-02's Rs. 1819.79 crore civil construction contract in March 2022 with a 48 month deadline.
Their section from chainage 3630.000 to 11564.485 consists of twin tunnels connecting 7 stations at Taj Mahal, Agra Fort, Jama Masjid, SN Medical College, Agra College, Raja ki Mandi and RBS College.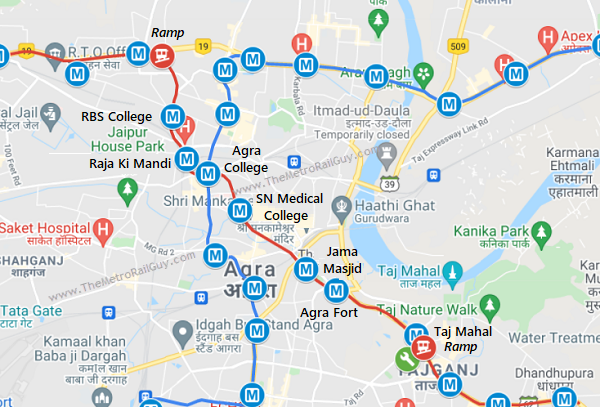 Construction for the shaft adjacent to Agra Fort Station was launched in April 2022 and parts of TBM Yamuna were lowered in December 2022.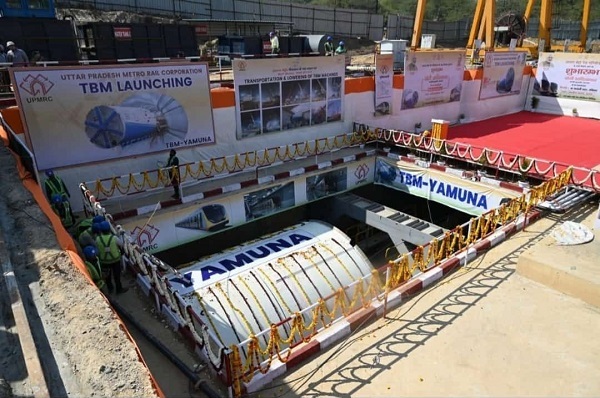 Besides 2 Robbins TBMs, Afcons – SAM consortium will be deploying another 2 Herenknecht machines from either Bangalore Metro's RT-01 Phase 2 project or from Singapore.
Their full tunneling plan still remains unknown to me at this time. If someone reading this is aware, then leave a comment below or shoot me a message via the Contact page.
For more updates, check out the Agra section or my Home Page! Sign up for free instant email notifications on new posts over here. Like this post? Get early-access to updates and support the site over here.
– TMRG