J Kumar Infraprojects this week started lowering parts of tunnel boring machine S28B – the 1st of 2 TBMs – at Surat Railwat Station for Surat Metro Phase 1's 3.56 km underground Package UG-2 / CS-3 (Surat Railway Station – Chowk Bazar Ramp).
This Ø 6.61m diameter refurbished Terratec earth pressure balance machine along with TBM S25B had previously seen action at Delhi Metro's Phase 3 Pink Line's Package CC-24 (Lajpat Nagar – Hazrat Nizamuddin)
Following a final double breakthrough, they were then brought to Surat's Palanpur for refurbishment in April 2021 and passed factory acceptance tests (FAT) in July 2022.
In Surat, J Kumar will deploy both machines for constructing 4 tunnels on the 21.61 km Line-1's 7.02 km underground section connecting Chowk Bazar and Kapodra Ramp.
Gujarat Metro Rail Corporation (GMRC) had awarded J Kumar Infraprojects with Package CS3's Rs. 941.80 crore contract in December 2020.
Their scope includes constructing Line-1's underground section from chainage 7160.6m to chainage 10720m with 3 stations at Chowk Bazar, Maskati Hospital and Surat Railway Station.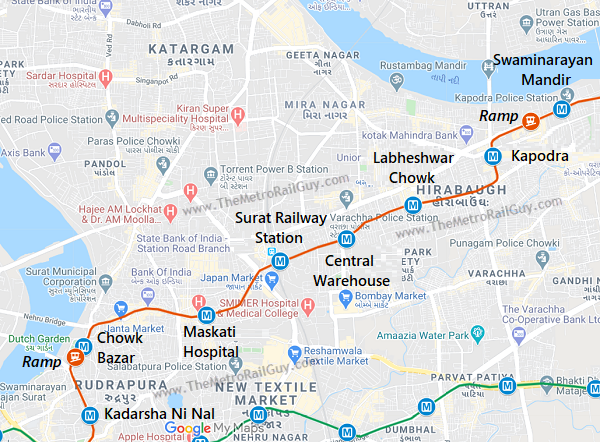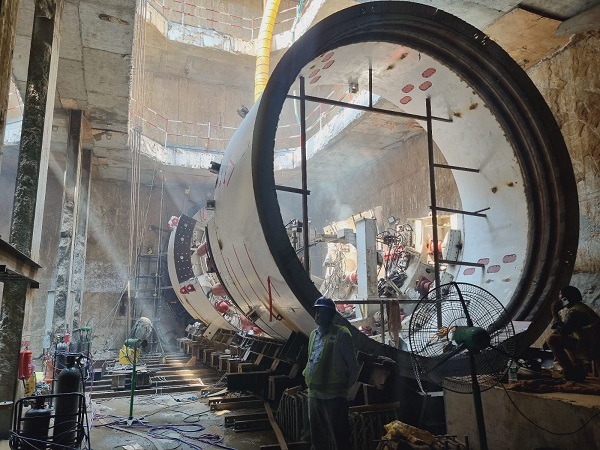 After starting out from Surat Railway Station, both machines will be retrieved from Chowk Bazar.
An official commissioning date has not yet been set, but I expect temporary temporary ring building work within the shaft to start in the 2nd half of April with tunnel excavation (mining) works in May.
For more updates, check out the Surat section or my Home Page! Sign up for free instant email notifications on new posts over here. Like this post? Get early-access to updates and support the site over here.
– TMRG