Rail Vikas Nigam Ltd. on Friday was declared as the lowest bidder to construct 4.7 km tunnel Package C-4 of the 121.7 km Haryana Orbital Rail Corridor (HORC) project.
This section of Haryana's first semi high-speed rail line by Haryana Rail Infrastructure Development Corporation Ltd (HRIDC) will consist of twin tunnels through the Aravalis, between chainage km 24.880 to km 29.580 near Sohna's Roz-Ka-Meo Industrial Area.
This is right next to an under construction tunnel for the Western Dedicated Freight Corridor (WDFC) project.
Construction on the roughly 1 km long tunnel will be carried out using the New Austrian Tunneling Method (NATM) and cut & cover method. Additional work in the contract's scope includes installation of ballastless track, commissioning electrical services and construction of minor bridges.
HRIDC had invited tenders for this section's construction in November 2022 with a 971 day (2.66 year) completion deadline and an undisclosed estimate which I hear and remains unconfirmed at Rs. 1230 crore. Technical bids were opened in mid-February to reveal 6 bidders.
Financial Bid Values
| | |
| --- | --- |
| Firm | Bid (Rs. Crore) |
| Rail Vikas Nigam Ltd. | 1088.49 |
| IRCON International Ltd. | 1237.88 |
| Gawar Construction Ltd. | 1256.79 |
| Dilip Buildcon Ltd. | 1351.73 |
| ITD Cementation India Ltd. | 1361.42 |
| APCO Infratech Ltd. | 1489.50 |
Brief Scope of C-4: Composite Contract package in connection with New BG Railway Line of HORC project for:
(i) Design & Construction of Twin Tunnel using NATM and Cut & Cover method from km 24.880 to km 29.580;
(ii) Design & Installation of Ballastless Track (excluding supply of rails) from km 24.856 to km 29.680;
(iii) Detailed Design, Supply, Installation, Testing & Commissioning of General Electrical Services including Supply, Erection, Testing and Commissioning of 11kV HT/LT Power and Control Cable Network, GIS Substation (11/0.433) kVA, Tunnel lighting system, etc. from km 24.880 to km 29.680;
(iv) Design & Construction of Embankment, Bridges and other miscellaneous works from km 12.00 to km 18.00.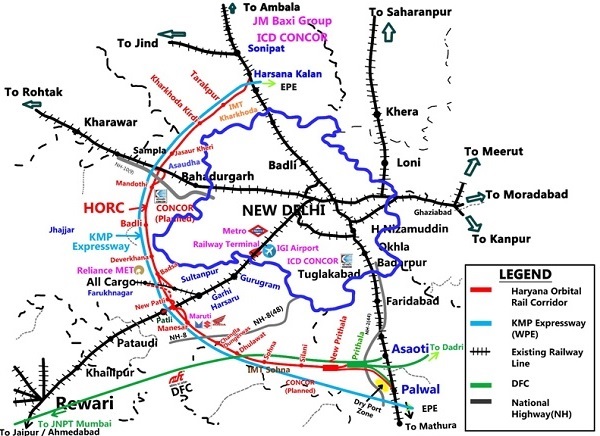 HRIDC's estimate remains unconfirmed to me, but if it's indeed Rs. 1230 crore, then RVNL will should be awarded a contract in the coming weeks without a long financial bid evaluation period. If awarded, RVNL will subcontract out work as seen in metro projects.
With this development, 1 package (C1) is under construction by KCC Buildcon, while financial bids have been opened for 2 packages – C23 (won by PNC Infratech) and C4 (won by RVNL – this post!)
A list of all packages (civil & system) and their status/contractors can be viewed here.
For more updates, check out the HORC section or my Home Page! Sign up for free instant email notifications on new posts over here. Like this post? Get early-access to updates and support the site over here.
– TMRG