Madhya Pradesh Metro Rail Corporation Ltd (MPMRCL) on Thursday invited tenders for the civil construction work of Bhopal Metro's 12.915 km Blue Line connecting Bhadbhada Chauraha – Ratnagiri Tiraha via 13 stations.
The entire Blue Line of 27.9 km Bhopal Metro's Phase 1 project will be constructed in one civil package BH-05. Its scope also includes a ramp leading to Subhash Nagar Depot (Package BH-06) which will be shared with 14.99 km Orange Line (Karond Circle – AIIMS) for maintaining and stabling 27 Alstom Movia train-sets.
Bhopal's Blue Line was earlier designated as the Red Line. Its Bogda Pul Station (interchange with Orange Line) will be built as part of Package BH-03.
Package: BH-05
Brief Scope: Part Design and Construction of elevated Viaduct, thirteen (13) elevated Metro Rail Stations viz. Bhadbhada Chauraha, Depot Chauraha, Jawahar Chowk, Roshanpura Chauraha, Kushabhau Thakre Hall, Parade Ground, Prabhat Chauraha, Govindpura, Govindpura Industrial Area, JK Road, Indrapuri, Piplani and Ratnagiri Tiraha (excluding an Elevated Passenger Interchange Metro Rail Station), between Chainages 50+000 and 62+915, and access to Depot between Chainages 00+155 and 01+100 for Blue Line" for Bhopal Metro Rail Project
Deadline: 1092 days (3 years)
Estimated Cost: Rs. 1121.63 crore
Bid Submission Deadline: July 20, 2023 at 4 PM
Technical Bid Opening: July 21, 2023 at 4:30 PM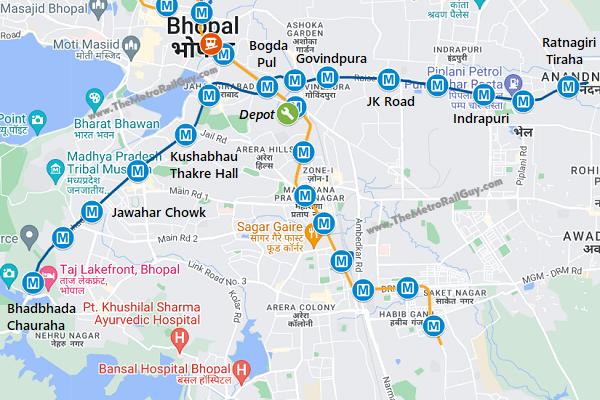 This contract will be financed by the European Investment Bank (EIB) through a €400 million (approx. Rs. 3584 crore) loan signed in December 2019.
A couple observations – all stations with "Square" in their name have been renamed to "Chauraha". MPMRCL has added a new station at Govindpura Industrial Area, and renamed Minto Hall to Kushabhau Thakre Hall and Lily Talkies to Parade Ground.
The bidding process for infrastructure projects rarely follows the prescribed schedule. If technical bids are opened sometime in Q3 (July-Sept), then we should see financial bids getting opened in Q4 (Oct-Dec), a contractor assigned in Q1 (Jan-Mar) 2024 and full-fledged construction work starting in Q2 (April – June) 2024.
With this development, all civil packages of Phase 1 have now entered the bidding stage. See a complete list of civil & system packages and their status over here.
For more updates, check out the Bhopal section or my Home Page! Sign up for free instant email notifications on new posts over here. Like this post? Get early-access to updates and support the site over here.
– TMRG