Alstom Transport India today formally started manufacturing 52 Movia train-sets in Savli, Gujarat for Indore Metro and Bhopal Metro's Phase 1 projects.
This super exciting development comes 8 months after Madhya Pradesh Metro Rail Co Limited (MPMRCL) awarded Alstom with Indore and Bhopal Metros' combined 156 coach rolling stock & signaling contract with a 4.18 year delivery deadline.
MPMRCL will operate 3 coach Alstom train-sets in formations of DMC+TC+DMC where DMC = Driving Motor Car and TC = Trailer Car.
27 of these trains (81 coaches) will be stabled at Bhopal Metro's Subhash Nagar Depot – the common carshed for Phase 1's lines. Of these 14 will serve the under construction 14.99 km Purple Line (Karond Circle – AIIMS) while 13 will serve the upcoming 12.88 km Red Line (Bhadbhada Square – Ratnagiri Tiraha).
Indore Metro's Gandhi Nagar Depot will stable 25 trains (75 coaches) to service the 33.53 km Yellow Line which will form a ring line around Indore city connecting Palasia – Railway Station – Rajwara- Airport – Bhawarsala. Recent images of the depot under construction by K.S.M. Bashir Mohd. and Sons can be viewed here.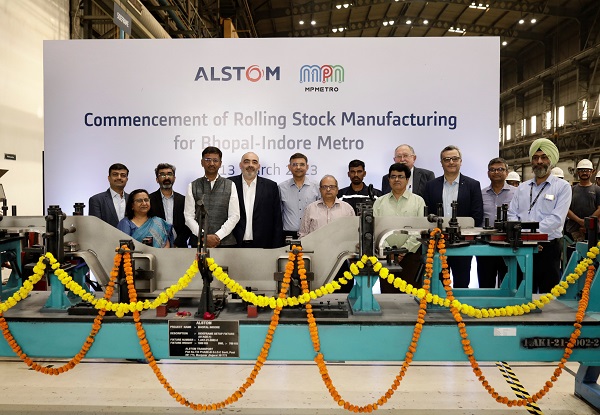 The above picture shows the 1st sideframe setup fixture. I'm not sure if this particular train-set will be sent to Indore or Bhopal, but imagine we'll figure that out in the next 7-9 months.
From what I see, the train-sets' design is similar to Kanpur and Agra metros' Movia trainsets with modifications to the color-scheme and addition of an additional light below the headlight. I was hoping we'd get to see something radically different, but I'll take this.
In case you missed it, Alstom last week started production on Pune Metro Line-3's first train-set out of their Sri City, AP facility – see details & pics.
For more updates, check out the Bhopal & Indore sections or my Home Page! Sign up for free instant email notifications on new posts over here. Like this post? Get early-access to updates and support the site over here.
– TMRG