Uttarakhand Metro Rail Corporation (UKMRC) has received no bids for developing Haridwar's Personalised Rapid Transit (PRT) System after it attempted to open technical bids for it retender on Thursday.
The city's PRT system – named Haridwar Darshan – is planned to be built on the public-private partnership (PPP) mode under Design, Built, Finance, Operate and Transfer (DBFOT) basis. It envisions a 20.70 km network of 4 elevated corridors on the central verge of the city's roads:
Sitapur – Bharat Mata Temple: 14.58 km
City Hospital – Daksha Temple: 3.1 km
Ganeshpuram – DAV School: 2.4 km
Valmiki Chowk – Laltaro Bridge: 0.65 km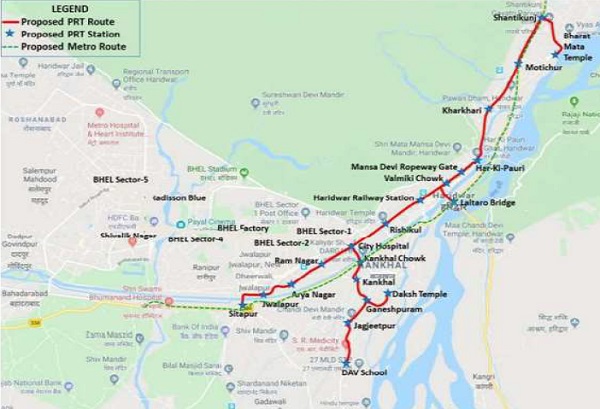 The project aims to transport 4-8 passengers in small driverless pod-cars or pod-taxis for nonstop point-to-point travel.
UKMRC has attempted to re-tender this project out multiple times. Back in April 2021, PNC Infratech was declared as the only bidder and subsequently the tender was cancelled a few weeks later due to poor participation.
For the latest round, UKMRC re-invited bids in March 2023 with a 30 year contract period and Rs. 1328.59 crore estimate
Brief Scope: Development of Personalised Rapid Transit (PRT) System in Haridwar City of Uttarakhand called Haridwar Darshan PRT on PPP Model under Design Built Finance Operate and Transfer (DBFOT basis)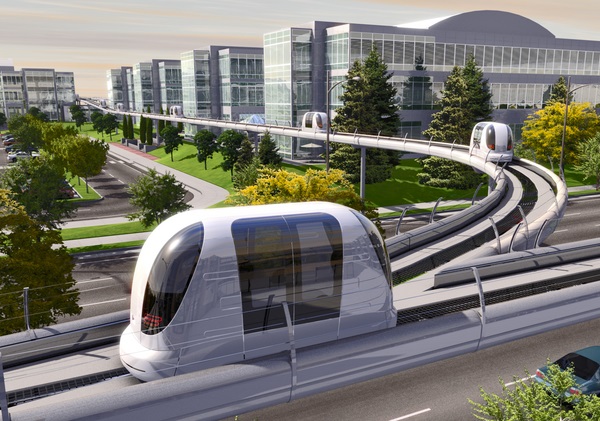 I'm glad this project saw no bidders and hope the Government of Uttarakhand scraps it all together as I've never been convinced by the utility of PRT systems in the urban landscape, particular in India, due to severe capacity constraints. They are too small for big cities, and too costly for smaller cities.
There are only a handful of PRT systems around the world (eg: Heathrow Airport in London and Suncheon in South Korea) and most are 1-4 km long. Many operators have in fact suspended plans for further expansion.
If I had it my way, in Haridwar I'd first strengthen and improve the local bus system, sidewalks, curb-side and street design for better throughput. This is extremely basic stuff that all cities and towns still need to work on.
Back in May, India's National Highways Logistics Management Ltd. (NHLML) received 5 bids for appointing a consultant to develop GIFT City's PRT system in Gujarat. Financial bids were opened in July, but the winner remains unknown to me. If someone reading this is aware, then leave a comment below.
For more updates, check out my Home Page! Sign up for free instant email notifications on new posts over here. Like this post? Get early-access to updates and support the site over here.
– TMRG