Aarvee Associates and Systra MVA Consulting India have been declared as the preferred bidders for preparing 4 Detailed Project Reports (DPR) of the 278 km Hyderabad Metro Phase 3 project.
Hyderabad Metro's Phase 3 by Hyderabad Airport Metro Ltd. (HAML) will be executed in 2 parts – 142 km Part A with 68 stations and 136 km Part B on Hyderabad's Outer Ring Road with 16 stations.
HAML had invited bids for the DPR's preparation through 4 packages in mid-August 2023 and received bids from 5 firms. Aarvee placed the highest technical score and lowest financial bid. Per the tender conditions, a firm could only win 2 contracts, so the next highest technical scorer (Systra) was invited to match Aarvee's financial bid.
Package 1 (48 km)
Winner: Systra (Rs. 2.55 crore)
BHEL – Patancheruvu – ORR – Isnapur (13 km)
L.B. Nagar – Hayathnagar – Pedda Amberpet (13 km)
ORR Patancheruvu Interchange – Kokapet – ORR Narsingi Interchange (22 km)
Package 2 (94 km)
Winner: Aarvee Associates (Rs. 3.05 crore)
Shamshabad Jn Metro Stn. – Kothur – Shadnagar (28 km)
Shamshabad Airport Stn. – Tukkuguda – Pharma City (26 km)
ORR Shamshabad Interchange – ORR Pedda Amberpet Jn (40 km)
Package 3 (78 km)
Winner: Aarvee Associates (Rs.2.53 crore)
Uppal X Road – Ghatkesar – Bibinagar (25 km)
Tarnaka X Road – ECIL X Road (8 km)
ORR Pedda Amberpet Jn – Ghatsekar – ORR Medchal Jn (45 km)
Package 4 (58 km)
Winner: Systra (Rs. 2.56 crore)
Double Elevated Flyover / Metro from JBS Metro Rail Station to Tumkunta (17 km)
Double Elevated Flyover / Metro from Paradise X Road to Kandlakoya (12 km)
ORR Medchal Interchange – Dundigal – ORR Patancheruvu Interchange (29 km)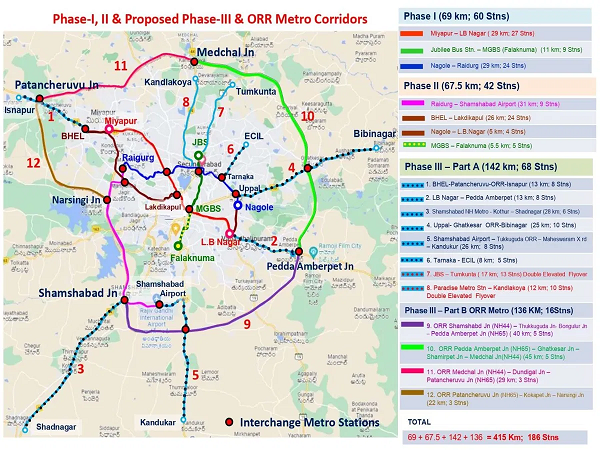 I hear HAML plans to issue Letter of Awards (LoAs) on September 6.
Per HAML's MD, the selected firms will have to first submit Preliminary Project Reports (PPRs) in 2 months duly carrying out traffic surveys, travel demand forecasting, ridership estimates, alternative options analysis etc., and recommend suitable modes of public transport.
They will next prepare DPRs in 3 months with details of alignment, viaduct/at grade/underground options, stations & depots, electric traction, signaling & train communication, coaches, environment/social impact assessment, transit oriented development, last mile connectivity, cost estimates, fare structure, financial analysis, project implementation plan, etc.
I'm currently out traveling and will update this post with more information and my thoughts soon, so do check back. I do find it strange though that the project is being executed/managed by Hyderabad Airport Metro Ltd. (HAML) and not by Hyderabad Metro Rail Limited (HMLR).
Update: The project's ticket-size is too large to be constructed in one go. 278 km is unprecedented in India, and HAML hasn't quite announced how they plan to finance this project or even Phase 2 which has been in the works for many years.
The creation of DPRs for each corridor is a good exercise and the logical first step, but if anything, I see this phase being broken into smaller chunks. Long way to go here. With the Lok Sabha elections coming up, we need to be a little more careful in managing our expectations when any kind of announcement is made.
For more updates, check out the Hyderabad Metro section or my Home Page! Sign up for free instant email notifications on new posts over here. Like this post? Get early-access to updates and support the site over here.
– TMRG