Per a couple of my tunneling industry connections, Herrenknecht AG has been finalized by Megha Engineering & Infrastructures Ltd. (MEIL) to supply 4 tunnel boring machines (TBMs) for 11.84 km Thane – Borivali twin tunnel project's construction in Mumbai.
This road project by Mumbai Metropolitan Region Development Authority (MMRDA) will feature 2 x 10.8 km road tunnels under Sanjay Gandhi National Park (SGNP) and a combined 1 km of approach roads on both ends.
The tunnels with 3 lanes each will be built using 4 mega TBMs at a maximum depth of 23m below the surface and connect Magathane's Ekta Nagar in Borivali and Tikuji-Ni-Wadi at Manpada in Thane. Cross-passages will be constructed every 300 meters connecting both tunnels to aid in evacuation and maintenance.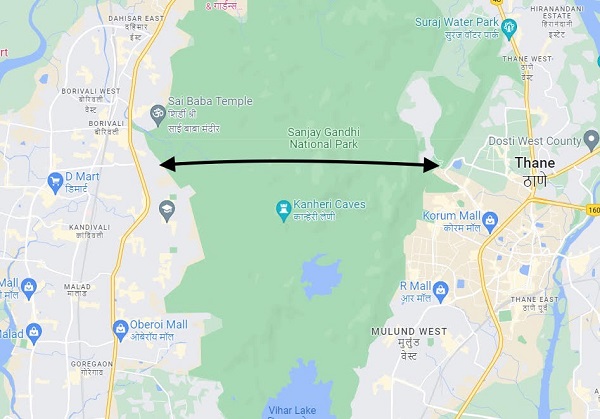 The project aims to drastically reduce the driving time between both spots from 1-2 hours (depending on day/time) to just about 15 minutes.
MEIL in May 2023 was declared as the preferred bidder for the project's 2 civil construction contracts with a 4 year deadline after much drama during the bidding stage.
For Package 1, L&T didn't submit the right documents and got disqualified in the technical bid evaluation stage. For Package 2, although L&T was the lowest bidder, they inadvertently failed to include the necessary tax component in their bid and got disqualified in the financial bid evaluation stage. L&T challenged this in the Bombay High Court, but their plea got dismissed.
Herrenknecht's orderbook for mega TBMs in India now stands at 7. Back in July, Afcons Infrastructure finalized them to supply 3 machines (2 machines to start with) for 20.37 km underground Package C-2 of the 508.17 km Mumbai – Ahmedabad High Speed Rail (MAHSR Bullet Train).
The upcoming 12.20 km Goregaon-Mulund Link Road (GMLR) project will see another 2 mega TBMs with a diameter of around 13m being deployed in Mumbai. NCC – J Kumar Infraprojects was declared as its lowest bidder in July and contract award is still pending from what I hear.
For more updates, check out the Tunnels section or my Home Page! Sign up for free instant email notifications on new posts over here. Like this post? Get early-access to updates and support the site over here.
– TMRG