Jaipur Metro Rail Corporation (JMRC) on Thursday cancelled the civil construction tender for Jaipur Metro Phase 1C and Phase 1D projects' elevated sections after the rate quoted by Sam (India) Builtwell, the only technically qualified bidder, was deemed too high.
These brand new phases will extend Jaipur's operational 11.98 km Pink Line (Mansaravor – Badi Chaupar) in either direction to Transport Nagar (Phase 1C) and Ajmer Road Chauraha (Phase 1D). Phase 1C has an underground component (Package UG-03) through the old city.
3.412 km Phase 1C (0.96 km elevated): Badi Chaupar to Transport Nagar with 1 underground station at Ramganj Chaupar and 1 elevated station at Transport Nagar
1.312 km Phase 1D (entirely elevated): Mansaravor to Ajmer Road Chauraha with 1 elevated station at Ajmer Road Chauraha and a 0.357 km loop line
JMRC had invited bids for the elevated sections' construction in June with a 840 day (2.3 year) deadline and Rs. 260.58 crore estimate. Technical bids were opened on August 10 to reveal 2 bidders – URC Construction and Sam (India) Builtwell.
During evaluation, URCC's technical bid was found to be non-compliant to the tender conditions – so Sam India was naturally declared as the lowest bidder (L1) when its financial bid (valued at Rs. 298.30 crore) was opened on September 6.
Sam's bid was 14.47% higher than JMRC's estimate. I hear negotiations over a week's period of time didn't yield in any substantial breakthrough to lower the finalized contractual cost, so JMRC's management cancelled the tender.
Contract ICB No: JP/EW/1C&1D(Elevated)/02
JMRC's Brief Scope: Design and Construction of Elevated Ramp, Elevated Viaduct and One Elevated Station (Transport Nagar) from start of elevated ramp (CH:13040.00 m) to Transport Nagar Dead end (CH:13996.00 m) of Jaipur Metro Phase-1C and Design and Construction of Elevated Viaduct and One Elevated Station (Ajmer Road Chauraha including loop line) from Mansarovar dead end (CH:-1243.930 m)(excluding) to Ajmer Road Chauraha dead end (CH:-2595.90 m) of Jaipur Metro Phase-1D, including Entry Exit Structures, Architectural finishing, water supply, Sanitary Installations, Drainage Works, Pre-Engineered Sheet Roof Structure and Roof Sheeting Works for Jaipur Metro Phase-1C and Phase-1D at Jaipur, Rajasthan, India.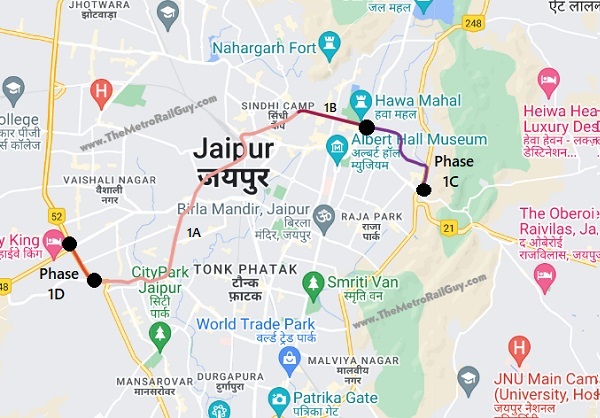 JMRC plans to publish a retender notice in the coming weeks, but I'm not sure how the outcome would be any different without a reduction in scope, which is always a shame if it affects passenger experience.
Back in August, Afcons Infrastructure was declared as the lowest bidder for the 2.65 km underground section of Phase 1C.
Bidding is currently underway by the Delhi Metro Rail Corporation (DMRC) for assigning both phases' Detailed Design Consulant (DDC). Technical bids for its contract (Package JCDD-01) are planned to be opened on September 19, so stay tuned!
For more updates, check out the Jaipur section or my Home Page! Sign up for free instant email notifications on new posts over here. Like this post? Get early-access to updates and support the site over here.
– TMRG