Tata Projects Ltd. (TPL) on Thursday celebrated tunnel boring machine S99's breakthrough at 116.1 km Chennai Metro Phase 2 project's Venugopal Nagar Shaft.
This was TBM S99 (nicknamed TBM Servarayan)'s first ever tunnel breakthrough and the 3rd of 24 breakthroughs planned on 45.4 km Line-3's civil package TU-01 connecting Venugopal Nagar – Kellys.
TPL's tunneling crew had commissioned this Ø6.61m diameter Terratec Earth Pressure Balance (EPB) machine from Madhavaram Milk Colony Station's north shaft in May 2023. It traveled 415m to build the down-line tunnel towards Venugopal Nagar Shaft in roughly 4 months.
Chennai Metro Rail Ltd. (CMRL) had awarded Tata Projects with Package TU-01's Rs. 1999 crore contract in May 2021 with a 42 month deadline.
TBM Seravarayan along with 6 other TBMs will build approximately 9 km twin tunnels (total 18 km) on Line-3's Venugopal Nagar – Kellys underground section. The scope also includes construction of diaphragm walls, entry/exit structures of Madhavaram Milk Colony Station, Murari Hospital Station, Ayanavaram Station and Purasaiwakkam High Road Station.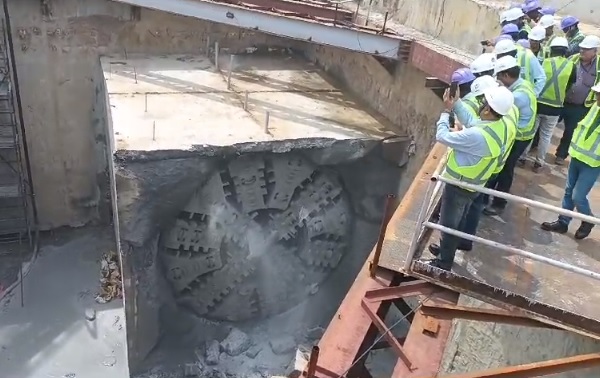 The parallel up-line tunnel was built by TBM S98 (Anaimalai). That machine had recorded the entire Phase 2 project's 1st breakthrough at this shaft in June 2023.
With 3/24 breakthroughs squared away by TBMs S98, S96 and S99, the next breakthrough by Tata's 4 new Terratec machines will be recorded by TBM S97. That machine is currently boring the 1.4 km down-line tunnel from Madhavaram Milk Colony Station towards Madhavaram High Road Station, and I expect it to show its face in the November-December timeframe.
For more updates, check out the Chennai section or my Home Page! Sign up for free instant email notifications on new posts over here. Like this post? Get early-access to updates and support the site over here.
– TMRG