11 firms have submitted bids to Chennai Metro Rail Ltd. (CMRL) for preparing a detailed feasibility report (DFR) to construct a metro line between Bommasandra in Bangalore, Karnataka and Hosur, Tamil Nadu.
This roughly 18 km long inter-state line on NH-44 will go through Attibelle, with 11.5 km of the route located in Karnataka and the rest 6.5 km in Tamil Nadu.
The feasibility study report's consultant will examine and recommend alignment, type of system (Metro, Metrolite, Metro Neo), estimated ridership, location of stations & depot and associated construction costs.
CMRL had invited bids for appointing the consultant in August 2023 with an unknown estimate and 180 day completion deadline. Technical bids were opened on September 30 to reveal the following 11 bidders.
Bidders
Aarvee Associates Architects Engineers and Consultants Pvt. Ltd.
Almondz Global Infra-Consultant Ltd. – Four Wall Consultancy JV
Balaji Railroad Systems Private Ltd. – Habog Consultants JV
Infrastructure Development Corporation Karnataka Ltd.
L&T Infrastructure Engineering Ltd.
Meinhardt EPCM (India) Private Ltd. – Cushman and Wakefield India Pvt. Ltd. JV
Rina Consulting SpA
RITES Ltd.
Srei Infrastructure Finance Ltd – CRAPHTS Consultants JV
SYSTRA MVA Consulting (India) Pvt. Ltd.
Tata Consulting Engineers Ltd.
Tender: CMRL/DESIGN/2023 DFR Hosur Bommasandra MRTS
CMRL's scope: Selection of Consultant for Preparation of Feasibility Study Report for introducing Mass Rapid Transit System connecting Hosur with Bommasandra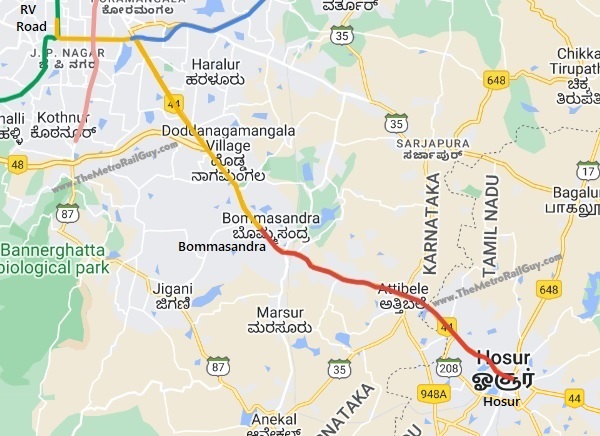 The bids are currently undergoing technical evaluation. When completed, the financial bids of the technically qualified bidders will be opened to reveal who's the lowest bidder and most likely consultant.
Karnataka's government isn't too keen on building this line due to silly "loss in business prospects" reasons and that's why CMRL is leading this effort. I do wonder what the Bangalore Metro Rail Corporation Limited (BMRCL) thinks about CMRL stepping into their turf.
Anyhow, there's a long way to go before construction begins. If the feasibility report is approved, the next step would be to create a Detailed Project Report (DPR).
If this project materializes, I expect the Tamil Nadu government to bear a substantial portion of the cost to construct the Karnataka portion just like the Uttar Pradesh and Haryana governments did when the Delhi Metro was extended into Ghaziabad, Noida, Gurgaon, Bahadurgarh and Faridabad.
I hope they decide to extend Bangalore Metro's 19.143 km Yellow Line and not build a new line requiring passengers to interchange at Bommasandra. A line with limited stops, spaced out every 2-3 kms, would be nice just like how it's being done on Bangalore Metro Blue Line's Airport section.
For more updates, check out my Home Page! Sign up for free instant email notifications on new posts over here. Like this post? Get early-access to updates and support the site over here.
– TMRG