November 5, 2023 Update: DMRC has awarded PT-08R's Rs. 22.76 crore contract to SC Agarwal.
October 15 Original Post: S.C. Agarwal in late-September was declared as the lowest bidder for the standard gauge ballasted track-work contract's retender (PT-08R) of Patna Metro's New ISBT Depot.
This small value contract of the 30.91 km Patna Metro Phase 1 project along with package PT-07R for 1200 MT 90 UTS, UIC 60, 13 m Class A 880 grade rails are dedicated towards the integrated New ISBT Depot which'll be used to stable and maintain trains on both lines of the project.
After canceling the original tender's bidding process in March 2022, Delhi Metro Rail Corporation (DMRC) re-invited bids in June 2023 with an estimate of Rs. 19.34 crore and completion deadline of 450 days (1.2 years).
Technical bids were opened in July to reveal 4 bidders, and financial bids on September 29.
| | |
| --- | --- |
| Firm | Bid (Rs. crore) |
| S.C. Agarwal | 22.76 |
| Jyoti Construction and Engineering Pvt. Ltd. | 23.97 |
| Texmaco Rail and Engineering Ltd. | 24.56 |
| Apurvakriti Infrastructure Pvt. Ltd. | 25.04 |
Contract: PT-08R
Brief Scope: Supply, Installation, Testing & commissioning of standard gauge track work (Ballasted, Embedded and Column lines) at New ISBT Depot for Patna Metro Rail Project for PMRCL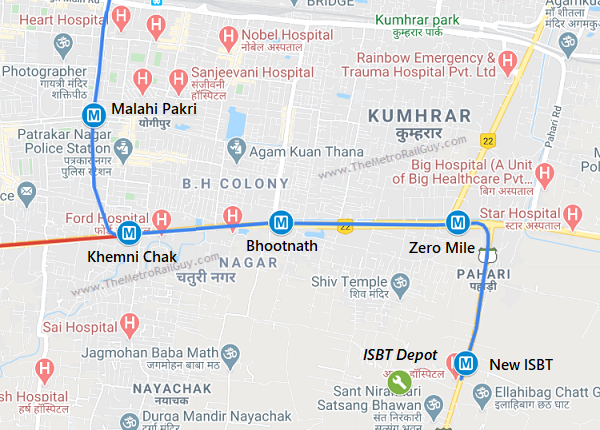 New ISBT Depot's civil construction contract was awarded to Quality Buildcon in December 2020. Satellite imagery of the depot can be viewed here on Google Maps.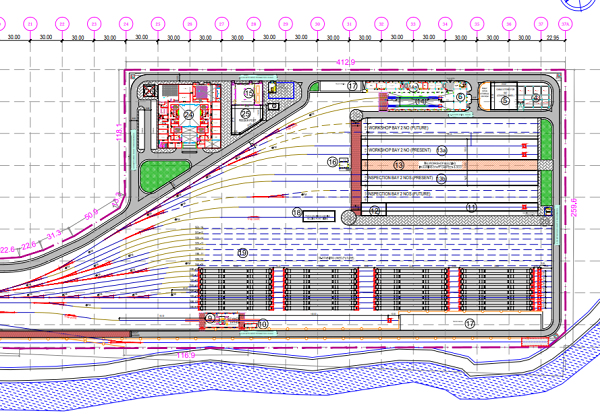 S.C. Agarwal's bid was 17.68% higher than DMRC's estimate, so this will head to the negotiation table for contract finalization.
A tender notice is still pending for the Patna Metro's rolling stock (train) contact so we're easily 2 years away, at this time, from seeing trial runs starting.
A tender notice is also pending for Line-1's 8 km underground section connecting Patlipura Ramp – Mithapur Ramp via 6 stations. Due to this tendering delay, at this time I see Phase 1 getting completed no sooner than 2028.
For more updates, check out the Patna Metro section or my Home Page! Sign up for free instant email notifications on new posts over here. Like this post? Get early-access to updates and support the site over here.
– TMRG