Balaji Railroad Systems (BARSYL) – Habog Consultants JV on Saturday was declared as the lowest bidder for preparing a detailed feasibility report (DFR) to construct a mass transit line between Bangalore's Bommasandra and Hosur in Tamil Nadu.
This roughly 18 km long inter-state line on NH-44 will go through Attibele, with 11.5 km of the route located in Karnataka and the rest 6.5 km in Tamil Nadu. On the north-side, it will start from Bangalore Metro Phase 2 project's under construction 19.143 km Yellow Line.
The feasibility study report's consultant appointed by Chennai Metro Rail Ltd. (CMRL) will examine and recommend alignment, type of system (Metro, Metrolite, Metro Neo), estimated ridership, location of stations & depot and associated construction costs.
CMRL had invited bids for this contract in August 2023 with an unknown estimate and 180 day completion deadline. Technical bids were opened in September to reveal 11 bidders.
Financial Bid Values (Lowest 5)
| | |
| --- | --- |
| Firm | Bid (Rs. lakh) |
| BARSYL – Habog JV | 29.44 |
| Almondz Global Infra – Four Wall Consultancy JV | 58.71 |
| L&T Infrastructure Engineering | 62.68 |
| RITES | 64.36 |
| Aarvee Associates | 64.54 |
RINA Consulting came in with the highest bid at Rs. 2.07 crore.
Tender: CMRL/DESIGN/2023 DFR Hosur Bommasandra MRTS
CMRL's scope: Selection of Consultant for Preparation of Feasibility Study Report for introducing Mass Rapid Transit System connecting Hosur with Bommasandra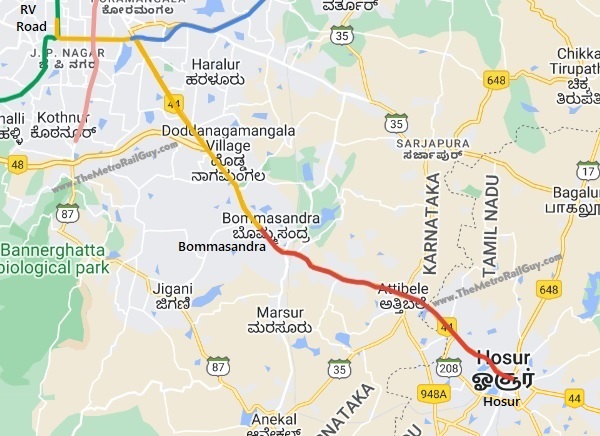 CMRL's estimate is unknown to me, so it's a little difficult to provide an assessment on the chances of a contract getting awarded. But looking at BARSYL – Habog JV's bid relative to all other bids, I reckon they're comfortably placed.
If a contract is awarded by year-end, then we can expect the feasibility report to be prepared by Q3 2024. If and when the feasibility report is approved, the next step would be to create a Detailed Project Report (DPR) which can take anywhere from 6 – 12 months.
Post finalization, the DPR will then go through the regular motions of approvals with funding being secured parallelly. At this time I don't see construction starting before 2026.
As shared in the past, if this project materializes, I expect the Tamil Nadu government to bear a substantial portion of the cost to construct the Karnataka portion just like the Uttar Pradesh and Haryana governments did when the Delhi Metro was extended into Ghaziabad, Noida, Gurgaon, Bahadurgarh and Faridabad.
For more updates, check out my Home Page! Sign up for free instant email notifications on new posts over here. Like this post? Get early-access to updates and support the site over here.
– TMRG