Uttar Pradesh Metro Rail Corporation (UPMRC) on Monday invited tenders for the civil construction work of Package AGCC-05 on 14.25 km Agra Metro Line-1 (Taj East Gate – Sikandra).
This 3.725 km long elevated section of 29.40 km Agra Metro Phase 1 project will link a ramp in Khandari with Sikandra via 3 elevated stations at ISBT, Guru Ka Taal & Sikandra – all located along national highway NH-19.
Agra Metro's Detailed Project Report (DPR) had planned for an additional future station at Shastri Nagar located between ISBT Station and the ramp. I'm not sure if the viaduct's structure at that designated spot has been specially designed to easily construct that future station.
This package is located on the northern-end of the line, and is the third and final civil package for Line-1 main-line's construction work. Overall, it's the 5th civil package of the Phase 1 project (main-line & depots) to enter the bidding stage.
Deadline: 24 months
Estimated Cost: Rs. 296.78 Crore
Pre-Bid Meeting: November 24, 2023 at 3 pm
Bid Submission Deadline: December 19 at 3 PM
Technical Bid Opening: December 20 at 3 PM
UPMRCL's Brief Scope: Design and Construction of elevated viaduct and 3 Nos. elevated stations (viz. ISBT, Guru Ka Taal & Sikandra Metro Station) including Civil, Associated and Ancillary Structure, Architectural Finishes, Water Supply, Sanitary Installation, Drainage, External Development, Fire Fighting, Fire Detection, E&M works and PEB structures of Balance Section chainage (-) 42.96 m to 3682.941 m of Corridor-1 of Agra Metro at Agra, Uttar Pradesh, India.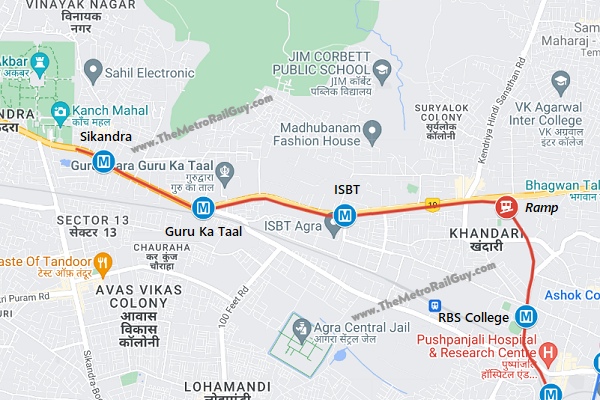 The ramp at Khandari is under construction by Afcons – SAM India JV as part of 7.93 km Package AGCC-02 (Khandari Ramp – Taj Mahal Ramp).
2 weeks ago, UPMRC strangely canceled the bidding process for Package AGCC-06 on 15.40 km Line-2 without offering a reason. That 6.8 km elevated section will link Agra Cantonment Station with Sanjay Place via 7 stations. I'm curious, so if someone reading this is aware of why that happened then leave a comment below or shoot me a message via the Contact page.
A list of all Agra Metro civil & system packages and their status can be viewed here.
For more updates, check out the Agra section or my Home Page! Sign up for free instant email notifications on new posts over here. Like this post? Get early-access to updates and support the site over here.
– TMRG