YFC Projects on Thursday was declared as the lowest bidder to construct a 70m long subway connecting Indira Gandhi International Airport's Terminal 2 with IGI Airport Metro Station of the 24.58 km Airport Express Line.
This new subway will be 10m wide, have a height of 4.2m, and be constructed using the box pushing method. Passengers currently have to walk roughly 500m to get to the station, so this will result in significant time savings and also provide an underground connection between Terminal 2 and Terminal 3.
The subway's construction is being performed through a memorandum of understanding (MoU) signed by the Delhi Metro Rail Corporation (DMRC) and Delhi International Airport Ltd (DIAL) in May 2023.
Shortly after, DMRC in August invited bids for this low-value contract with a Rs. 26.60 crore estimate and 1.7 year deadline. Technical bids were opened in September to reveal 2 bidders – SAS Infratech and YFC Projects. During evaluation, SAS was disqualified for not meeting the tender's conditions.
YFC's Financial Bid: Rs. 25.22 crore
DMRC's Brief Scope: Design and construction of a pedestrian subway between existing lGl Airport Metro station of Airport Express Line at Terminal-3 to Terminal T-2, Delhi Airport by Box Pushing Method including construction of pushing and receiving shaft, Entry/Exit, connection of subway box with existing metro station, architectural finishing works etc.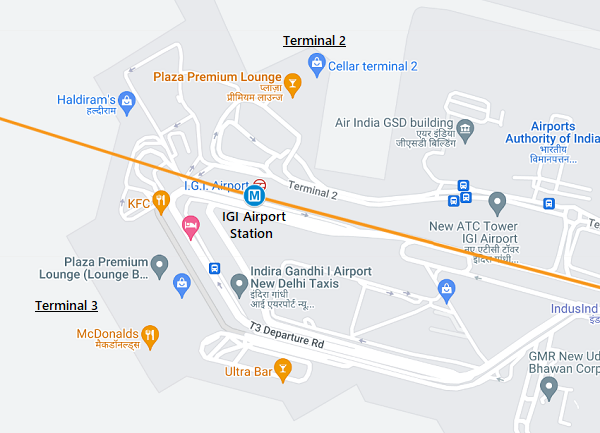 YFC's bid of Rs. 25.22 crore was well below DMRC's estimate of Rs. 26.60 crore, so a contract should be awarded in the coming weeks without a long financial evaluation period.
Per DMRC & DIAL's MoU, DIAL will be responsible for the cost of construction and utility shifting works, while DMRC will be responsible for the operations and maintenance including electrical and mechanical fittings, telecom, lifts and escalators, CCTV surveillance, security system and PA systems.
While we're on topic of subways, technical bid evaluation is currently underway for India's first pedestrian subway to be built by a tunnel boring machine (TBM) in Patna, Bihar. That contract received 3 bids in October – see details.
Coming back to Delhi, this subway sadly adds another nail to solidify Terminal 2's existence which should have made way for a brand new Terminal 4 if DIAL had followed the original airport masterplan. It can easily be repurposed in the future, so I can still keep my hopes alive.
For more updates, check out my Home Page! Sign up for free instant email notifications on new posts over here. Like this post? Get early-access to updates and support the site over here.
– TMRG