With track-work complete on the down-line tunnel of Bangalore Metro's long-delayed 24.20 km Green Line, the BMRCL yesterday pulled a metro train using a battery powered locomotive (BPL) through its 4 km UG-1 underground section and out on to the 8 km Reach 4-4A viaduct's pocket track at the National College Station.
The train departed Sampige Road Station at 4:30pm and took about 2 hours to traverse through the underground section connecting Sampige Road – Majestic – Chickpet – KR Market  – National College stations as the the crew had to stop its movement frequently to check for & remove physical infringements along the way.
NOTE: As per a senior BMRCL official, the city's Development Minister will today (Sunday) flag off a visual inspection of the line and trial runs/testing will commence sometime in the following week.
The elevated section between National College – Yelachenahalli, where trial runs will commence next week, comprises of 2 sub-sections:
• Reach 4 – National College to Rashtreeya Vidyalaya Road – 4.1 km with stations at: National College, Lalbagh, South End Circle, Jayanagar & RV Road.
• Reach 4A – Rashtreeya Vidyalaya Road to Yelachenahalli – 3.9 km with stations at: Banashankari, JP Nagar & Yelachenahalli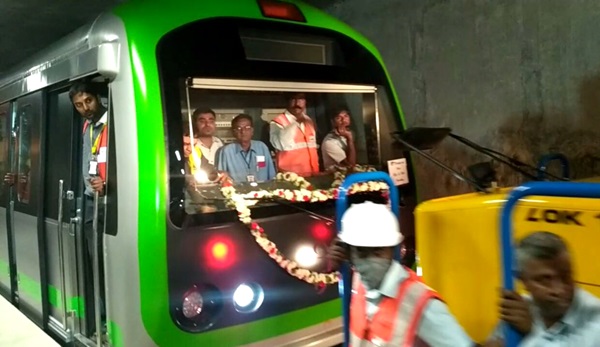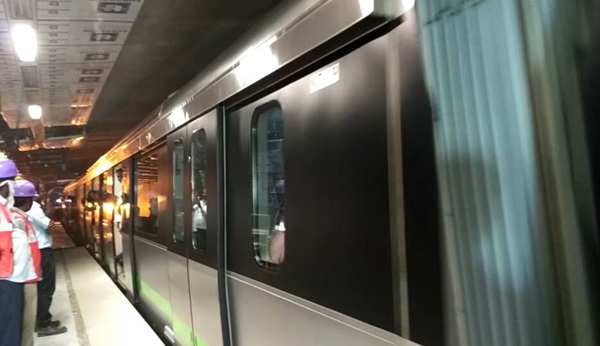 Video:

A similar exercise was conducted on the 18 km Purple Line's tunnels between Cubbon Park and City Railway stations in March 2015. After all sub-systems were installed, integrated trial runs began in November 2015 and the line went on to start commercial operations in April 2016.
Coming back to the Green Line – with the train now stationed at National College, testing on the elevated section in south Bangalore can finally begin after a long wait. As operations on this section relied on the tunnel works to be completed, the BMRCL in 2015 entertained the idea of airlifting coaches onto its viaduct, like previously done in Delhi & Gurgaon, but finally decided not to do so due to logistical reasons.
The BMRCL will need 2-3 months to conduct trial runs and complete minor pending finishing works at the stations after which it'll invite the Commissioner of Metro Rail Safety (CMRS) to conduct a safety inspection. The BMRCL hasn't revealed their actual game plan, but like the once standalone Reach 2 (Magadi Road-Mysore Road) section, I'm expecting the BMRCL to launch operations on Reach 4-4A by the new April 2017 Phase 1 deadline as a face saver since the underground section will need another 4-6 months to get ready for trial runs.
Nov 21 Update: The (unpredictable) BMRCL is now looking to open the entire line in one go. Here's what the MD said in an interview to the Deccan Herald.
We will not approach the Commissioner of Metro Rail Safety for the approval of the elevated and underground stretches separately
Keeping that in mind, the entire stretch is now heading for a late 2017 opening.
For more updates, check out the Bangalore section of The Metro Rail Guy!
– TMRG