Workers from NCC this weekend commissioned their 2nd launching gantry at Yelachenahalli to launch precast segments for building the Bangalore Metro Green Line's 6.29 km southern extension to Anjanapura Township.
This development comes just 2 months after they commissioned their first launching gantry south of the Krishna Leela Park Station's site after winning the contract to build package Reach 4B of the Bangalore Metro's 72 km Phase 2 project between Yelachenahalli and Anjanapura Township in January 2016. As per a Twitter follower, as of February 14, the 1st LG crane has completed building (launching & post-tensioning segments) for 8 spans.
The Reach 4B section includes 5 new stations at Anjanapura Cross Road, Krishna Leela Park, Vajrahalli, Thalgattapura & Anjanapura Township on Kanakapura Road, and is expected to become operational in late 2019. Here's a map displaying the direction of both launching gantry cranes in orange:
Tweet from January:
Parts of a 2nd launching gantry have started to arrive for #Bangalore's 6.29km extn to Anjanapura.
Will build from existing viaduct→south pic.twitter.com/W0xh27Z4W2

— The Metro Rail Guy (@TheMetroRailGuy) January 6, 2017
Images: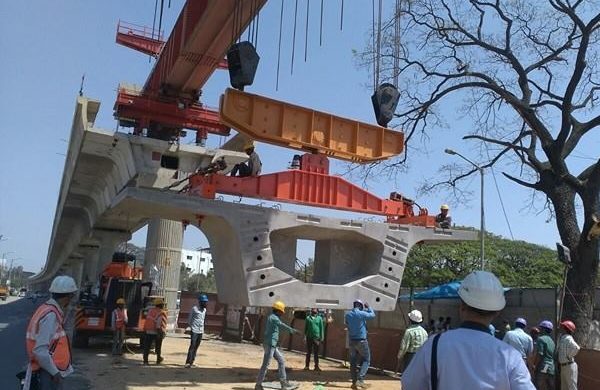 Each segment weighs 40 tons and usually 10 segments are required to build one span between two adjacent piers. For this section, NCC will launch 2018 segments which they're currently casting at their yard in the nearby Thataguni Village. As per BMRCL's Feb 2017 newsletter, 345 of them had been cast by the end of January 2017.
Here's my go-to video to demonstrate how the Launching Gantry works its magic with precast segments to build modern segmental viaducts and bridges:
For more updates, check out the Bangalore section of The Metro Rail Guy!
– TMRG