Note – this wasn't a traditional breakthrough and the Lucknow Metro Rail Corporation (LMRC) is likely to stage a double-breakthrough event next week to celebrate and publicly announce the arrival of both TBMs S52 & S53.
On this past Monday evening, the Tata – Gülermak JV began chipping away at the Hazratganj Station's diaphragm "D-wall" using a demolition machine to welcome its Terratec manufactured TBM S52. This Ø6.52m EPB TBM was commissioned from the Sachivalaya (State Secretariat) Station's Bapu Bhawan Shaft in January 2017 and took only 4 months to build the 780m down-line tunnel of the 22.88 km Line-1's 3.44 km LKCC-06 underground section.
As mentioned in the comments section of a recent post, the TBM arrived at the Hazratganj Station's box in late-May, but had to wait patiently for excavation works at the station's platform level to get completed to make an appearance into the station. The contractor used a demolition machine, similar to this, so as to not damage the TBM's cutterhead and disturb the surrounding old buildings' weak foundations if a traditional breakthrough had been conducted.
A similar 'assisted' breakthrough was performed by the Pratibha-FEMC JV at Delhi Metro's Nehru Enclave Station on the Magenta Line in February 2016.
After drilling the D-wall, an excavator was brought in to remove the debris. Snap from last evening –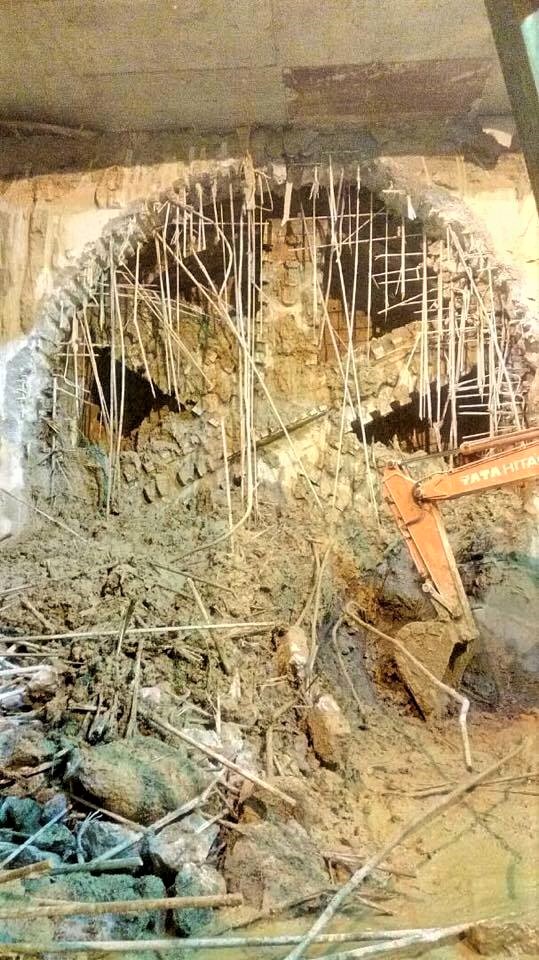 Video of a segment being erected:
In #Lucknow, TBM S52(Gomti) has ~60m of tunneling left to reach Hazratganj Station, its 1st destination? Just another segment being erected: pic.twitter.com/cAVNBllSZm

— The Metro Rail Guy (@TheMetroRailGuy) May 11, 2017
With this breakthrough out of the way, there are now only 5 more left! After TBM S53's breakthrough at this station next week, the Tata – Gülermak JV will dismantle both TBMs, retrieve their parts and reassemble them again at the Sachivalaya (State Secretariat) Station's western-end to build twin 613m tunnels towards the Hussainganj Station – view entire tunneling plan here.
For more updates, check out the Lucknow section of The Metro Rail Guy!
– TMRG