Simplex Infrastructures Ltd. has emerged as the lowest bidder for constructing the 7.501 km Gottigere –  Swagath Road Cross section of Bangalore Metro's 21.42 km Gottigere – Nagawara Line-4 after officials from the Bangalore Metro Rail Corporation Ltd. (BMRCL) recently opened the financial bids submitted by different technically qualified infrastructure firms.
This entirely elevated section of the 73.95 km Phase 2 project's Reach-6 with 6 new stations will be built on Bannerghatta Road and along the way form a massive 5-level interchange with the upcoming 19.14 km RV Road – Bommasandra Line-3 (Reach-5) at Jayadeva Hospital which will be built by the HCC – URCC JV.
The BMRCL invited bids for this package, officially referred to as Reach 6-CC-01, in March 2017 with an estimated cost of Rs 575.52 crore and would like civil work to be completed within 27 months. At this time it isn't known which other firms qualified to the financial bidding stage and what their bid values were, but apparently Simplex's bid was only 0.5% above BMRCL's estimated price. This post will be updated whenever more information becomes available.
The 5 new stations included in this package's scope are located at Gottigere, Hulimavu, IIM-Bangalore, JP Nagar 4th Phase and Swagath Road Cross –
Note – Except for the Jayadeva Station, the locations of all other stations marked above are speculative as the BMRCL hasn't released this section's detailed alignment.
If no issues arise, then in the coming days the BMRCL will go on to award Simplex Infrastructures with the 73.95 km Phase 2 project's 10th major civil contract – see list of contractors here. This will become Simplex's 2nd project in the city after the 3.031 km BIEC extension of the Green Line for which test piling work commenced in June.
Phase 2's Status
On the civil side of things, contractors for 2 main civil infra components still have to be assigned:
• 13.92 km underground section of Line-4 – BMRCL invited bids for 4 packages (tunnels & stations) in July 2017. Contractors are expected to be finalized in the 1st half of 2018.
• New Depots – Bids are yet to invited for the construction of new depots at Challeghatta (Purple Line), Thataguni (Green Line), Hebbagodi (Line-3), Kothanur (Line-4) & Nagawara (Line-4, stabling yard only).
On the system side of things, BMRCL in mid-July invited bids for the procurement of head hardened rails (tracks). Bids for other critical systems such as the Automatic Fare Collection (AFC) system, telecommunication system, escalators, electrical system, signalling & train control system, and rolling stock are yet to be invited.
Blue: Under Construction| Black: Contract Awarded | Orange: Financial Bids Opened | Purple: Bids Invited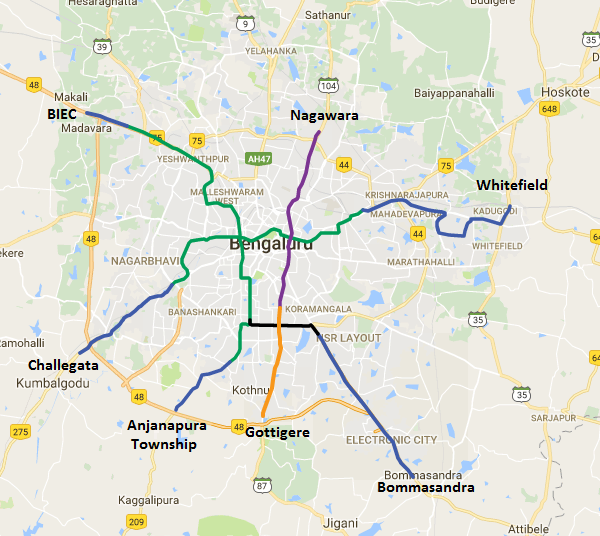 September 8 Update – Work order (LOA) has been issued to Simplex Infra –

For more updates, check out the Bangalore section of The Metro Rail Guy!
– TMRG