The Hindustan Construction Company Ltd. – URC Construction Pvt Ltd. (HCC – URC) JV has emerged as the lowest bidder for constructing the 6.340 km Package-3 of Bangalore Metro's new 19.14 km RV Road – Bommasandra line. This entirely elevated section of the 72 km Phase 2 project's Reach 5 will run primarily on Marenahalli Road, and connect the Green Line's RV Road Station with the upcoming HSR Layout Station on Hosur Road.
BMRCL invited bids for this package in late-December 2016 with an estimated cost of Rs. 820 crores, and the HCC-URC JV submitted the lowest bid at Rs. 797.29 crores.
Financial bid values submitted by 3 of the lowest technically qualified bidders:
| | |
| --- | --- |
| Firm | Bid |
| HCC-URC JV | Rs. 797.29 cr |
| Simplex | Rs. 840.60 cr |
| Soma | Rs. 852.17 cr |
In addition to a regular viaduct on either ends, the contractor will be responsible for building an approximately 2.5 km long double decker viaduct for vehicles and metro trains with 5 new stations at RV Road, Ragigudda, Jayadeva Hospital, BTM Layout and Central Silk Board:
A detailed PDF document which shows the exact locations of all stations can be viewed here. Note that the viaduct will cross over the Green Line's viaduct making its piers extremely high – see details/map here.
A massive 5 level interchange station will be constructed at Jayadeva Hospital after demolishing the existing flyover over Bannerghatta Road to allow users to connect to the Phase 2 project's 21.25 km second new line between Nagawara & Gottigere. In the future, the Central Silk Board Station will become an interchange station with the 17 km Central Silk Board – KR Puram ORR Line which received the Karnataka Government's approval in March 2017.
Out of all 3 packages on this line (others are P1, P2), this is the most difficult section to construct, and is expected to open up no sooner than 2023 due to its complex scope and various site constraints.
In the coming days, if no extraneous issues arise, then the BMRCL will go on to award the HCC-URC JV with the 72 km Phase 2 project's 9th major civil contract:
Line
Reach
Stretch
Contractor
Purple
2A
Mysore Road –
Pattanagere (3.945 km)
IL&FS
Green
4B
Yelechenahalli –
Anjanapura Twp (6.290 km)
NCC
Purple
2B
Pattanagere –
Challeghata (4.869 km)
Soma
Green
3C
BIEC –
Hessaraghata (3.031 km)
Simplex
Purple
1B
Visvesvaraya Ind. Area –
Whitefield (7.218 km)
ITD-ITD Cem
Purple
1A
Baiyappanahalli –
Visvesvaraya Ind Area
(8.039 km)
ITD-ITD Cem
Line-3
5(P1)
Bommasandra –
Hosa Road (6.418 km)
ITD-ITD Cem
Line-3
5(P2)
Hosa Road –
HSR Layout (6.385 km)
ITD-ITD Cem
Line-3
5(P3)
RV Road –
HSR Layout (6.340 km)
HCC-URC
Phase 2's Status
Blue: Under Construction | Black: Contract Awarded | Orange: Financial Bids Opened | Purple: Bids Invited | Grey: Bids Yet to be Invited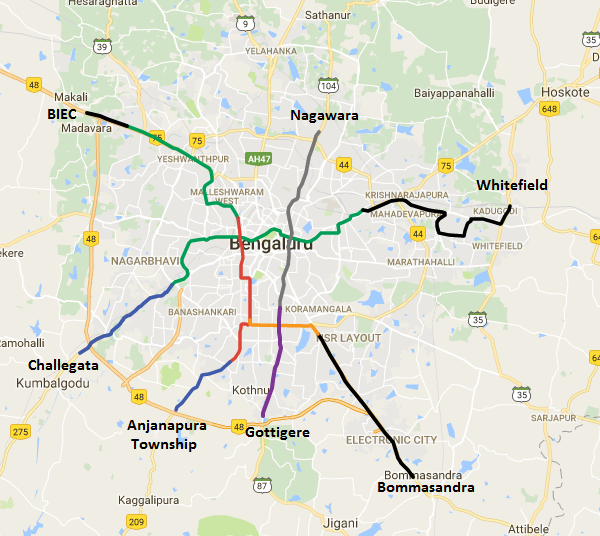 Note: Reach 1B (Visvesvaraya Ind. Area – Whitefield) and Reach 5's Package 1 & 2 (Bommasandra – HSR Layout) were awarded to the ITD-ITD Cem India JV on April 28.
July 1 2017 Update: BMRCL has awarded HCC-URCC with this section's contract:
For more updates, check out the Bangalore section of The Metro Rail Guy!
– TMRG