A couple days after emerging as the lowest bidder for the 7.218 km Reach 1B, the Italian-Thai Development – ITD Cementation India (ITD-ITD Cem) JV has now also turned out to be the lowest bidder for constructing the 72 km Phase 2 project's 8.039km Reach 1A between the existing Baiyappanahalli Station and the upcoming Visvesvaraya Industrial Area Station. Along with Reach 1B, the Reach 1A section will extend the operational 18 km Purple Line further eastward by another 15.257 km to Whitefield.
The BMRCL invited bids for this package in December 2016 with an estimated cost of Rs. 670.72 crores, and the ITD-ITD Cem JV submitted the lowest bid at Rs. 689.51 crores.
Financial bid values submitted by the lowest 2 technically qualified firms:
| | |
| --- | --- |
| Firm | Bid |
| ITD-ITD Cem JV | Rs. 689.51 cr |
| Simplex | Rs. 763.04 cr |
Note: NCC's financial bid was not opened as they were disqualified in the technical round either due to their bid or issues stemming from their bank guarantee.
This section includes 6 new stations at Jyothipuram, KR Puram, Mahadevapura, Garudacharpalya, Doddanakundi Industrial Area, Visvesvaraya Industrial Area. The KR Puram Station will in the future also serve as an interchange for the upcoming 17 km Silkboard – KR Puram line (Phase 2A) which was just approved by the state government's cabinet earlier this month.
The line's exact alignment and location of stations can be viewed in this PDF released by the BMRCL in mid-December 2016.
The 'General Information and Qualification Requirement' section of the notice inviting tenders does not stipulate or prohibit one bidder from being awarded both Reach 1A and Reach 1B, so in the coming days, if no extraneous issues arise, then the BMRCL will go on to award the ITD-ITD Cem JV with the 72 km Phase 2 project's 6th major civil contract:
Line
Reach
Stretch
Contractor
Purple
2A
Mysore Road –
Pattanagere (3.945 km)
IL&FS
Green
4B
Yelechenahalli –
Anjanapura Twp (6.290 km)
NCC
Purple
2B
Pattanagere –
Challeghata (4.869 km)
Soma
Green
3C
BIEC –
Hessaraghata (3.031 km)
Simplex
Purple
1B
Visvesvaraya Ind. Area –
Whitefield (7.218 km)
ITD-ITD Cem
Purple
1A
Baiyappanahalli –
Visvesvaraya Ind Area
(8.039 km)
ITD-ITD Cem
Like Reach 1B, tree cutting & demolition of the acquired properties is well underway with some land acquisition still pending as per the March newsletter. With this development, ground-work for the construction of this section is expected to begin in June 2017 and I see it opening for commercial operations no sooner than 2022.
Phase 2's Status
Blue: Under Construction | Black: Contract Awarded | Orange: Financial Bids Opened | Purple: Bids Invited | Grey: Bids Yet to be Invited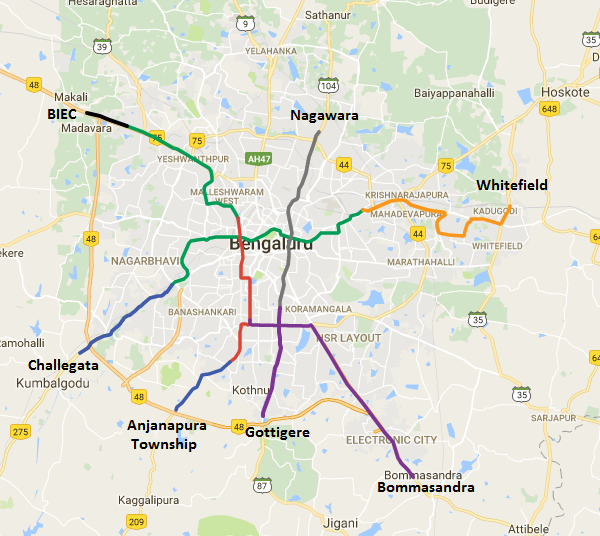 Next in line is the 19.14 km RV Road – Bommasandra line (Reach 5) which consists of 3 civil packages – 1, 2 & 3. Stay tuned to find out who is or are the lowest bidders and eventual civil contractors for them!
April 25 2017 Update: BMRCL has awarded ITD with this section's contract:
For more updates, check out the Bangalore section of The Metro Rail Guy!
– TMRG