During the recent inspection of Nagpur Metro Line-1's Khapri Depot by an official from the Research Design and Standard Organization (RDSO), Nagpur Metro's social media team inadvertently showcased the new paint scheme of its first Hyundai Rotem train, leased from Hyderabad Metro until the CRRC trains arrive, to its Facebook fans.
This train with a new orange-white livery is expected to be formally unveiled later this month when trials runs begin on a 1.5 km stretch between Khapri Depot and Khapri Station. It arrived at the depot in early August and has since been conducting static and dynamic tests on the depot's test track as the first 4.5 km at-grade section (Khapri – New Airport – Airport) of the 19.658 km Line-1 is yet to be electrified.
Screenshots from the video embedded below –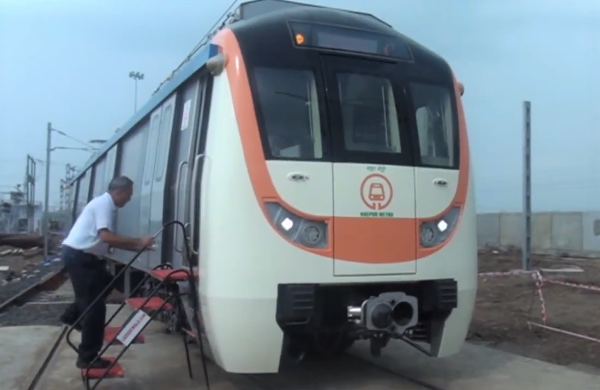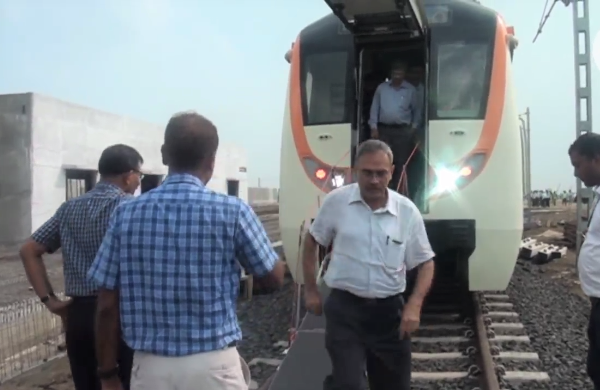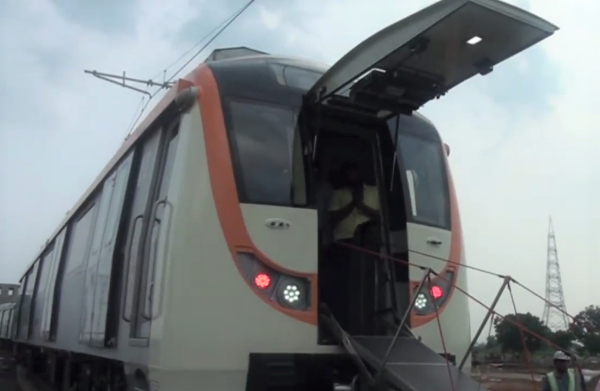 For comparison, here's the train's old livery (with ads) used by L&T for Hyderabad Metro –
As a part of preparing thoroughly for the #trialrun of #NagpurMetro, a team comprising of "Research Design and Standard Organization (RDSO)" and Maha-Metro did a joint inspection on 07/09/2017. RDSO Executice Director, Shri Rajesh Kumar along with Shri Mahesh Kumar Agrawal, Director (Projects) and Sr. Engineers from Maha-Metro did the inspection to ensure every detail is being adhered to. A demonstration of the measures to be adopted at times of emergency was also done. The OHE and TSE officials were also a part of the inspection. We would like to thank the RDSO for expressing satisfaction of the work and acknowledging the efforts put in by #TeamMetro.
– link to FB post
Video: See glimpses of the train's new paint scheme at 00:04 mins and 00:55 mins
The old livery was too colorful, and I'm on the fence on this one as the white front sticks out from the rest of the grey body like a sore thumb. Perhaps better quality images will change my mind. What do you think?
For more updates, check out the Nagpur section of The Metro Rail Guy!
– TMRG