On the night of January 19, workers from the J Kumar Infraprojects – CRTG JV launched their first pier cap for supporting the platform of IC Colony Station in Borivali West as part of package AC-01 of Mumbai Metro's 18.6 km Line-2A between DN Nagar and Dahisar East.
The pier cap is 20.5 m long and weighs 125 tons. Each station requires 11 such pier caps in order to support the system's 140m long platforms on either end and the line's viaduct in the center.
The J Kumar – CRTG JV is responsible for constructing both packages AC-01 and AC-02 of the line, and completed casting the viaduct's first pier in January 2017, erecting the 1st pier cap in May and launching the 1st U-girder in July. Package AC-01 includes the construction of  the line's viaduct and 8 stations at Anand Nagar, Rushi Sankul, I C Colony, Eksar, Don Bosco, Shimpoli, Mahavir Nagar and Kamraj Nagar –
Some images –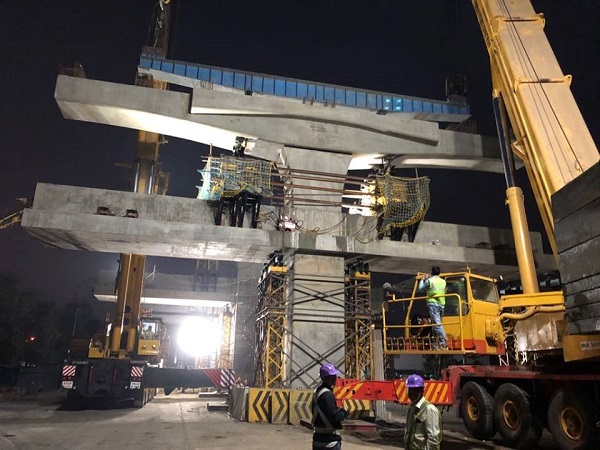 Here's a nice time-lapse video –
First platform pier cap erection in Mumbai Metro line – 2 at IC colony ? @TheMetroRailGuy pic.twitter.com/tzEhxonhij

— Kya Socha Fir? (@Frustrated_Baba) January 20, 2018
The following evening, another platform pier cap was launched –
Launching work has also commenced at the nearby Eksar Station, and at Kasturi Park Station on package AC-02 – see an image.
Here's the current status of Line-2A from MMRDA's website. All data in rows #1-7 seems to be related to the viaduct portion only.
The tender notice and documents for procuring the line's systems (rolling stock, signalling) are ready, but haven't been published as the MMRDA hasn't been able to finalize an external loan deal with the Asian Development Bank apparently due to conditions imposed by the new Metro Rail Policy. As per a MMRDA official who interviewed with the Mumbai Mirror –
Under the new metro policy, the Central Government has made it mandatory for all metro projects in India that rolling stock and other systems of the projects should have 75 per cent Indian component but despite this, ADB says that its procurement policy does not recognise such a restrictive clause.
For more updates, check out the Mumbai section of The Metro Rail Guy!
– TMRG