Say hello to Delhi's 9th new metro line!
Less than an hour ago, Delhi's Chief Minister and Union Minister of State for Housing & Urban Affairs inaugurated the 21.565 km Majlis Park – Durgabai Deshmukh South Campus section of Delhi Metro's new 58.59 km Pink Line (Line-7) at an off-site event held at the Delhi Metro Rail Corporation's headquarters.
The line's inauguration event was short & simple, and started with an inaugural train getting flagged off right away from Majlis Park towards South Campus. Here's a detailed schedule that was supposed to be followed  –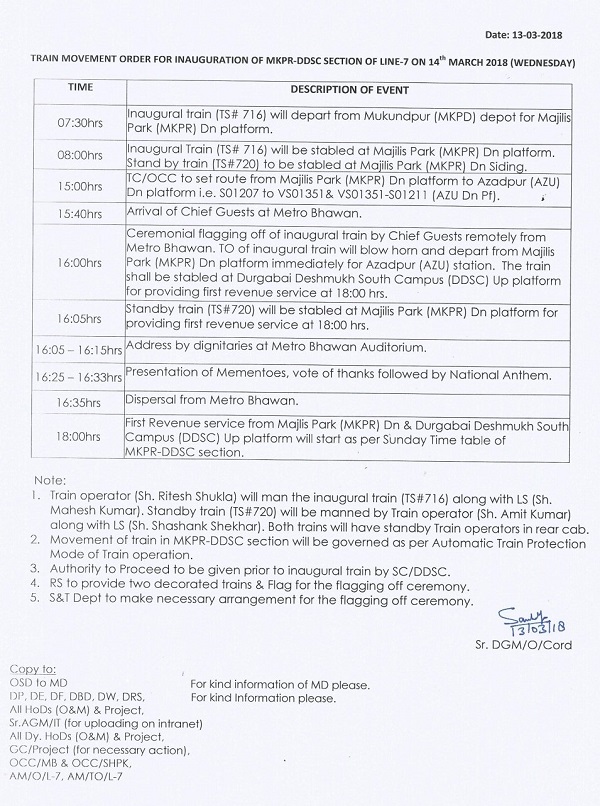 The Pink Line is equipped with Bombardier Transportation's CITYFLO 650 communications-based train control (CBTC) signalling solution which enables Delhi's new Hyundai Rotem trains to be operated on both the unattended "driverless" and automatic train operating (UTO and ATO) modes. All stations are equipped with platform screen doors for rider safety and have been built as green buildings with specific provisions for the conservation of energy as well as better CO2 saving, water saving and waste management arrangements – see more on that here.
This stretch of the 162.5 km Phase 3 project was built by 7 different contractors including Larsen & Toubro, HCC & J Kumar Infraprojects. A brief high level history of the line's construction from tendering to tunneling, with images of all 12 TBM breakthroughs and 4 steel truss bridges, can be viewed here.
This section features 12 stations at Majlis Park, Azadpur (interchange with Yellow Line), Shalimar Bagh, Netaji Subhash Place (interchange with Red Line), Shakurpur, Punjabi Bagh West, ESI Hospital, Rajouri Garden (interchange with Blue Line), Mayapuri, Naraina Vihar, Delhi Cantonment and South Campus. DMRC plans to connect the South Campus Station to the Airport Express Line's Dhaula Kuan Station via a 920m walkway by June, but that won't provide concourse-concourse connectivity for easy transfers.
Images of many stations' interiors can be viewed here.
DMRC plans to initially operate 19 trains on this stretch with a headway of 3 minutes 28 seconds between South Campus and Shakurpur stations during peak time and 4 minutes during off-peak hours. Between Shakurpur and Majlis Park stations, trains will run with a headway of 5 minutes 12 seconds during peak time and 6 minutes during off-peak hours.
End to end, the journey is expected to take 34 minutes to cover and will significantly bring down travel time and cost. For example – Samaypur Badli to Janakpuri West will now cost Rs. 40 (Yellow-Pink-Blue) instead of Rs. 60 (Yellow-Blue). Similarly, Azadpur to Rithala will now cost Rs. 30 (Yellow-Pink-Red) instead of Rs. 50 (Yellow-Red). When it comes to saving time – a journey from, say, Rajouri Garden to Azadpur will now take 17 minutes (Pink) instead of 47 minutes (Blue-Yellow). Likewise, a journey from Dwarka Sector 21 to Samaypur Badli will now take 74 minutes (Blue-Pink-Yellow) instead of 94 minutes (Blue-Yellow).
Some images of the inauguration event –
Videos –
Union Housing and Urban Affair Minister @HardeepSPuri and Delhi Chief Minister @ArvindKejriwal inaugurates the stretch between Majlis Park-South Campus of #PinkLine of #DelhiMetro pic.twitter.com/6UsHf05hTd

— Doordarshan News (@DDNewsLive) March 14, 2018
Inaugural train leaving from Majlis Park towards South Campus:
Video – #Delhi Metro Pink Line's inaugural train (TS #716) leaving from Majlis Park Station towards South Campus after getting flagged off remotely – pic.twitter.com/70z8SDOVIa

— The Metro Rail Guy (@TheMetroRailGuy) March 14, 2018
The line will open to riders at 6 pm. I'll add more images here later during the day. In the meanwhile, enjoy this really cool image shot during service trials at the line's roller-coasteresque hump at Dhaula Kuan –
Update – The line is now open. Here are some images –
With this development, Delhi Metro's network has become 252.5 km long with 182 stations of which 15 provide interchange connectivity. The highest point in the network is now located at Dhaula Kuan where the Pink Line's viaduct has been built 23.6m above SP Road in order to safely pass over the Airport Express Line's viaduct. That's one figure which I'm not too proud of; I would have taken a proper & closer interchange facility here any day over what's been built.
For more updates, check out the Delhi section of The Metro Rail Guy!
– TMRG