The Delhi Metro Rail Corporation on Tuesday afternoon announced that they've received the final statutory approval from the Commissioner of Metro Rail Safety (CMRS) for starting commercial operations on the 24.82 km Kalkaji Mandir –  Janakpuri West section of Delhi Metro's new 38.235 km Magenta Line (Line-8).
The CMRS had conducted a thorough 3-day final inspection of the line between May 8-10, and the approval comes with a set of 37 conditions which the DMRC has to follow/correct prior to opening this final section of the line which will become the longest metro-route to be opened in one go – see Delhi Metro's history.
Here's the detailed approval which lists out all the conditions that the DMRC has to comply with. The ones in bold (emphasis not mine) from page 3 onwards seem to be the big ones –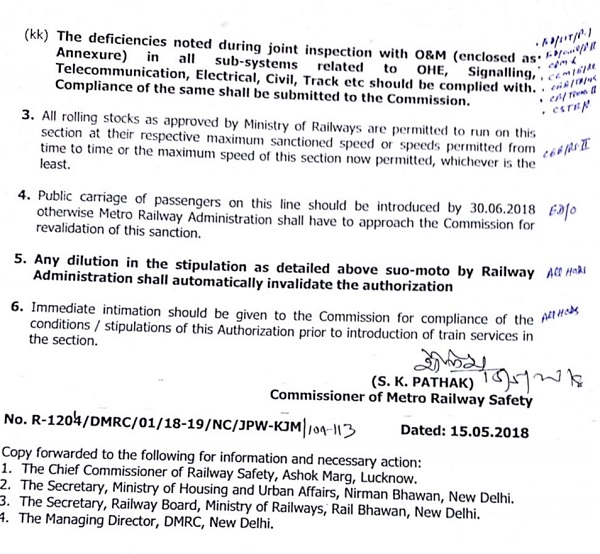 This is the generic announcement made by Anuj Dayal, DMRC's Executive Director of Corporation Communications, in a brief press release –
The Commissioner for Metro Rail Safety (CMRS) has given the mandatory approval for the start of passenger operations on the section between Janakpuri West and Kalkaji Mandir. The exact date of opening of this corridor will be intimated after compliance of the certain conditions and stipulations by DMRC.
Inauguration and commercial launch dates haven't been announced yet. Most of you know the drill – the date depends on (1) how quickly DMRC takes corrective action in meeting the CMRS' requirements & suggestions (if any) for safely operating the line, and (2) the availability of local & national ministers wanting to attend the event.
This 24.82 km section of the line includes 16 stations (2 elevated and 14 underground) at Janakpuri West (new station box for interchange with Blue Line), Dabri Mor, Dashratpuri, Palam, Sadar Bazar Cantonment (elevated), IGI Terminal-1, Shankar Vihar (elevated), Vasant Vihar, Munirka, RK Puram, IIT-Delhi, Hauz Khas (new station box for interchange with Yellow Line), Panchsheel Park, Chirag Delhi, Greater Kailash, GK and Nehru Enclave. Due to a lack of space, I've marked only some of the stations below. A full map can be viewed here.
Images from inside the IGI-Terminal 1 Station can be seen here.
FIITJEE won IIT Station's co-branding/semi-naming rights and gave its entrance structures this gaudy look:
Janakpuri West Station's interiors look quite refreshing to me:
Stay tuned for the inauguration and launch dates to be announced. It's only a matter of a couple days now.
For more updates, check out the Delhi section of The Metro Rail Guy!
– TMRG