Between November 13-18, workers from HCC – URCC JV completed building a 34m span for Bangalore Metro's new 19.143 km Yellow Line (Line-3 / Reach 5) over the existing 24.20 km Green Line (Line-2 / Reach 4A), south of the RV Road Station, under the 72 km Phase 2 project.
Per TOI –
The Yellow line is 19.8m above the road level, the Green line is 11.5m above. BMRCL officials said it is a challenging task as the launching has to be done over the existing operational Green Line at a height of 18m to 20m above the road level. "The span is 34m long and curves at a radius 127.5m. The installation of precast segments, which form a viaduct, is only from a fixed location as the space between the existing viaduct and the Phase-2 piers is not very large," an official said.

Another challenge is the space constraint for installing precast segments because of the existing line. "The segments have to be rotated twice as they are hauled through the limited space. Special care is being taken to prevent grout and other loose material from falling on the existing line," an official said. "We are trying to complete the work in a 99-hour period by having continuous 12-hour day and night shifts," another official said. Work is expected to be completed before 5am on Monday, the official added.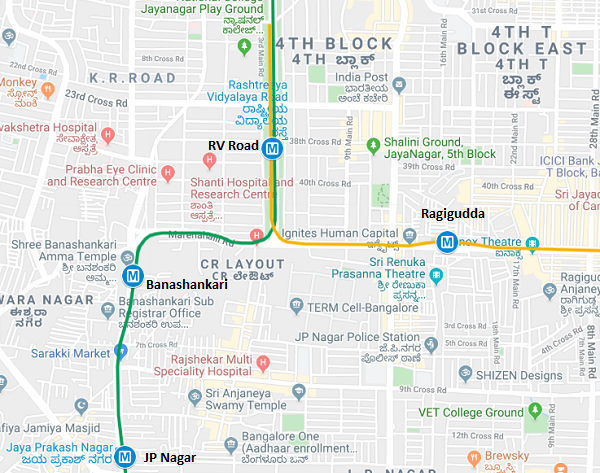 To facilitate the launch of precast segments, BMRCL had to partially suspend services on the Green Line's 3.9 km Reach 4A between RV Road and Yelachenahalli stations between November 14-17.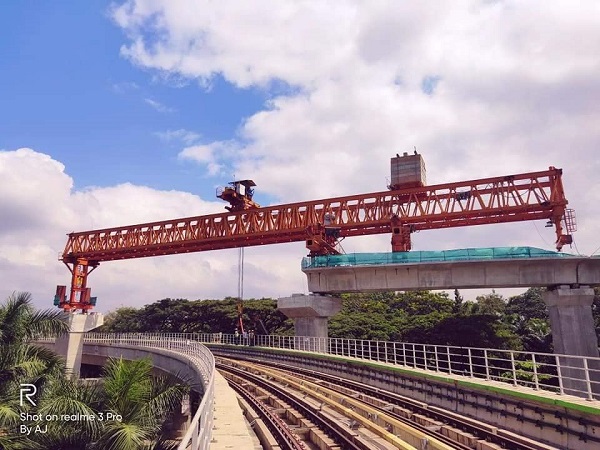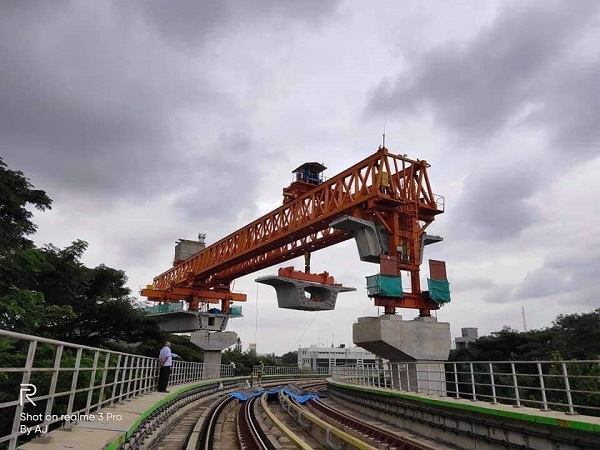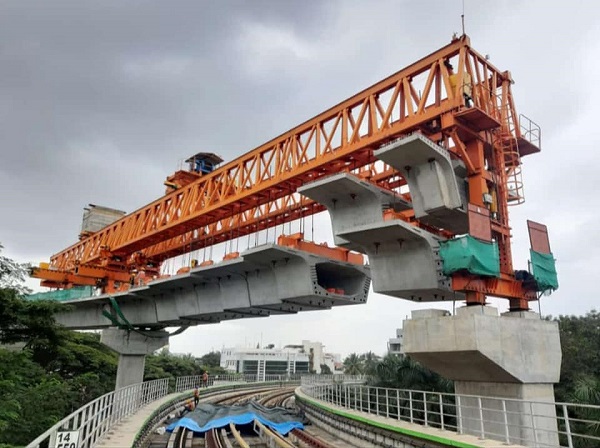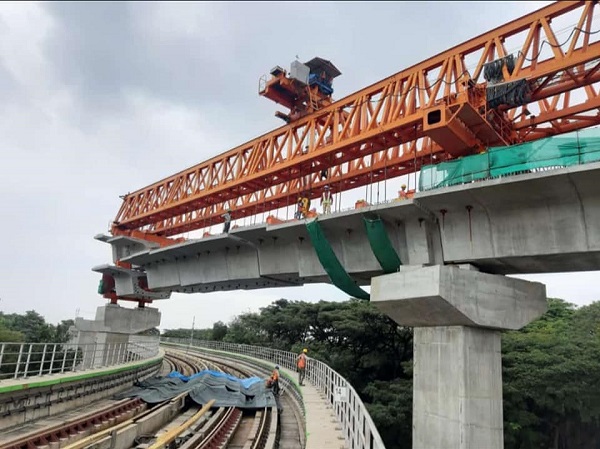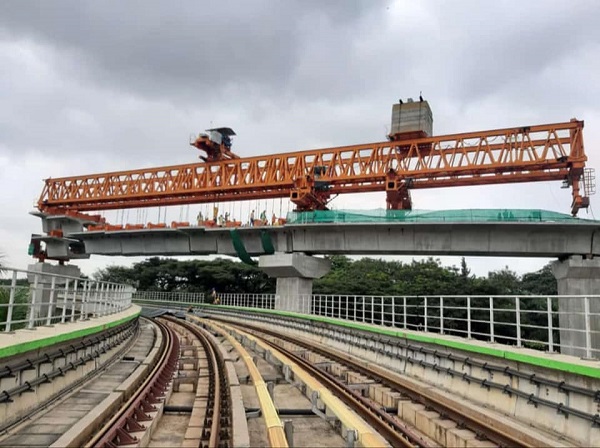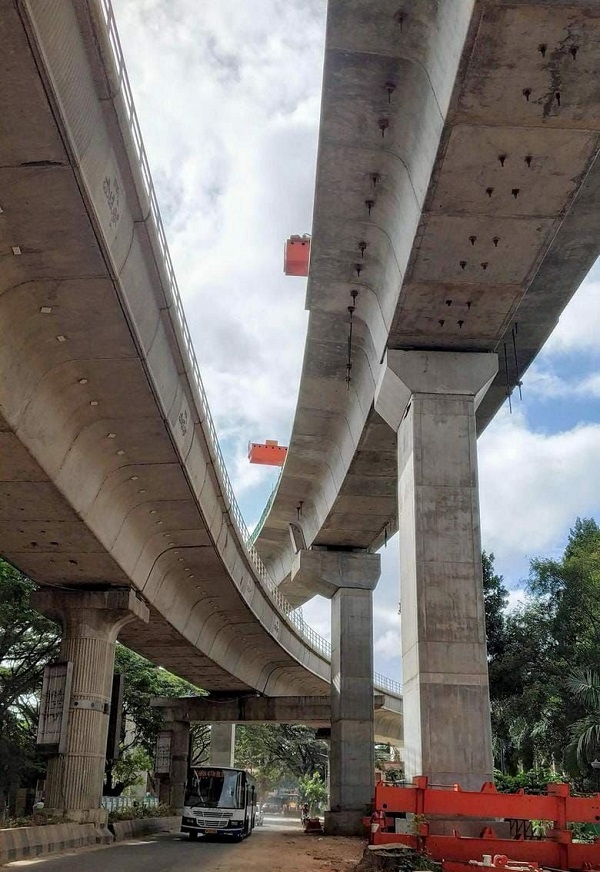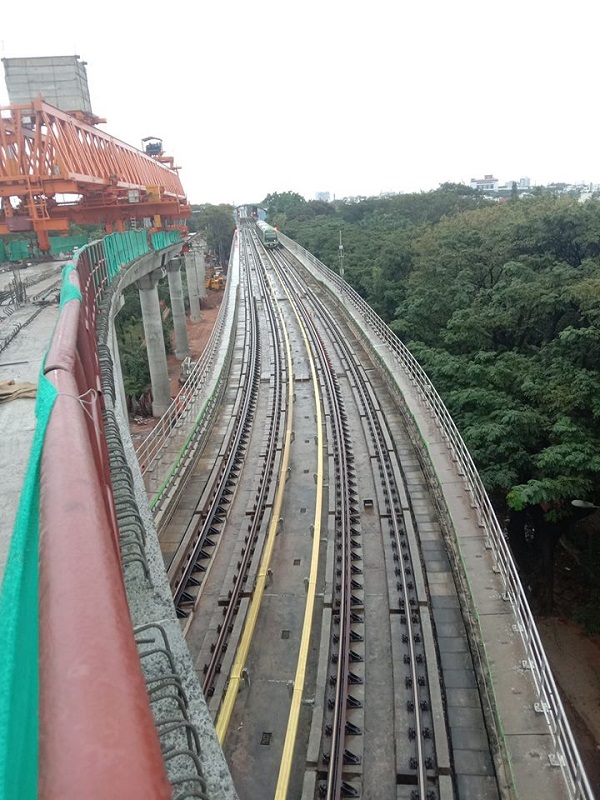 This is the first of 3 planned cross-overs in Phase 2 & 2A –

• At Jayadeva Hospital, the 21.386 km Nagawara – Gottigere Line-4 (Pink) will cross over the 19.143 km RV Road – Bommasandra Line-3 (Yellow). Demolition of the existing flyover to facilitate construction is being performed in stages, with the last phase facing delays due ongoing white-topping work by the BBMP on Hosur Road which'll serve as an alternate route for vehicular traffic.
• At KR Puram – the 18.236 km ORR Line-5 (Blue) will cross-over the 42.17 km Line-1 (Purple). The BMRCL just re-invited bids for the ORR Line's construction in December 2019.
For more updates, check out the Bangalore section of The Metro Rail Guy!
– TMRG
Hat-tip to Pruthvin Reddy