The Mumbai Metropolitan Region Development Authority (MMRDA) on Wednesday invited bids for appointing a General Consultant for the system works of Mumbai Metro's 24.9 km Orange Line-5 (Thane – Bhiwandi – Kalyan), 3.17 km Red Line-7A (Andheri East – CSI Airport Terminal-2) and 11.38 km Red Line-9 (Dahisar East – Mira Bhayander).
Contract MMRDA/Metro- PIU/0002021
• Period of work: 42 months
• Documents on sale: 2/02/2020 to 23/03/2020 (upto 12 pm)
• Pre-bid meeting: 24/02/2020 at 11:30 am
• Last date to submit tender: 23/03/2020 up to 1500 hrs
• Tender opening date: 24/03/2020 at 1100 hrs.
The tender notice doesn't include finer details on the role & responsibilities, but this work would typically entail providing MMRDA assistance in design, supervision, safety, quality control and contract management for all systems such as rolling stock, train control and signalling system, overhead catenary systems, power supply, telecom, automated fare collection (AFC), escalators etc.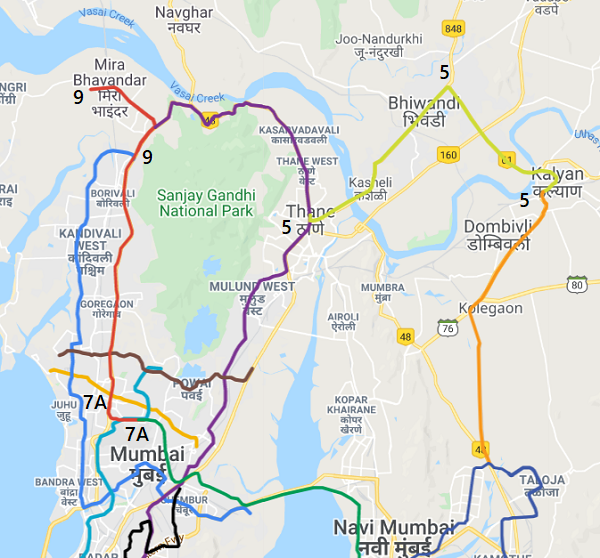 Civil construction for a 12.8 km portion of the 24.9 km Line-5 (shown in lime green) is underway by Afcons Infrastructure, with some readers reporting the start of casting work for its piers between Kapurbawdi and Balkum Pada.
The 3.17 km Line-7A and 11.38 km Line-9 are extensions of the 16.5 km Line-7 (shown in red), and a single contract for both's civil construction was awarded to J Kumar Infraprojects in September 2019, with pile load testing now reaching completion for Line-9.
Back in August 2019, a consortium of Systra – Consulting Engineers Group Ltd – Systra MVA Consulting (India) was appointed as the General Consultant for the civil works of Line-5, 7A and 9. Typically only one General Consultant is appointed to cover both civil and system components, but in this case it seems like the MMRDA was in a hurry to receive GC services to kickstart construction work.
For more updates, check out the Mumbai section of The Metro Rail Guy!
– TMRG