Per a contracting notice on the Asian Development Bank (ADB)'s website, the two stations proposed at Kempegowda International Airport as part of the 38 km Bangalore Metro Phase 2B project will be built at-grade (ground level).
Bangalore Metro Rail Corporation Ltd has been in talks with ADB for a USD $500 million (approx. Rs. 3,760 crore) loan since 2018 to finance the construction of its new 56 km Line-5 (Silkboard – Bengaluru Airport) which will be developed in parallel in Phase 2A (Silkboard – KR Puram) with 13 stations and Phase 2B (KR Puram – Airport) with 17 stations.
ADB cleared the loan's concept on December 9, 2019 and had plans to perform a fact finding from April 19 – 30, which is now scheduled May 4 – 11, for recommending the loan for approval to its board.
Bengaluru Metro Rail Project, Phase-2A & 2B is a rail-based mass transit system with a design speed of 80 kmph and average operating speed of 34 kmph. Once operational, it will be the fastest, most comfortable, reliable and safest mode of commuter transport connecting International Airport in Bangalore City.

The Project is 56 Kms in length, originating from Central Silk Board Junction and terminating at Kempegowda Internation airport Terminal in Bangalore in the State of Karnataka(India), has total 30 stations, out of which 28 stations are elevated and 2 stations at Airport Terminal are at grade along with one New Depot and upgradation of one existing Depot. ADB funding would be used to finance the Works contracts.
Both stations at the airport were earlier known as Sky Garden and Airport Terminal. In July 2019, Karnataka's state government renamed them, in addition to two others, to Airport City and KIA Terminals citing a request from BIAL authorities.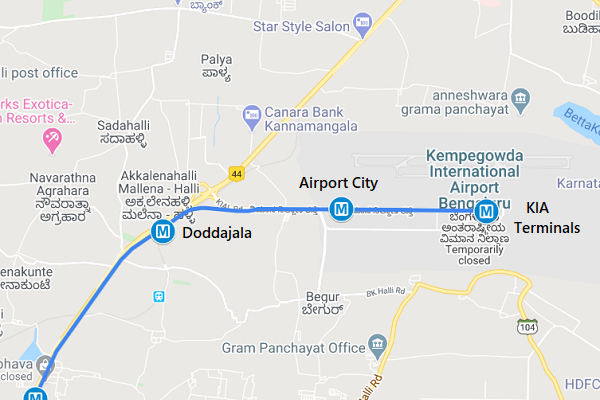 In the formative stages of the project, both stations were envisioned to be underground. The line's Detailed Project Report (DPR) prepared by Bangalore Metro Rail Corporation Ltd (BMRCL) in 2018 revealed both stations would be elevated with BMRCL's MD Ajay Seth indicating that could change.
Speaking to the Deccan Chronicle, the MD in October 2018 said –
There was some confusion about the Metro stations at the airport. But our DPR clearly states that they will be elevated and the airport will have two stations, one at the entrance near the Sky Garden and another near the terminal. We will look at the plan again and decide whether one of the stations can be at the ground level.
BIAL authorities back then had raised valid concerns over the line's elevated nature in & around the airport premises and approach funnel to the runways. Those concerns resulted in both stations getting redesigned to at-grade structures.
In February 2020, BMRCL awarded a Rs. 6.26 crore contract to a consortium of AECOM India Pvt. Ltd. and Consulting Engineers Group Ltd for the HBR Layout – Airport section's Detailed Design Consultancy service. Suggestions from them can possibly result in further modifications.
For more updates, check out the Bangalore section of The Metro Rail Guy!
– TMRG