Paras Rail Tech Pvt. Ltd and Vijay Nirman Company Pvt. Ltd. are the two rail manufacturing companies that have submitted bids for the track-work contract of the 1.878 km underground extension of the Delhi Metro's 22.9 km Airport Express Line from Dwarka's Sector 21 Station to the upcoming Exhibition-cum-Convention Centre (ECC) in Dwarka's Sector 25.
DMRC invited bids from firms in March with an estimate of Rs. 25.86 crores, and opened technical bids on July 6 to reveal the bidder names. DMRC expects the assigned contractor to complete all track-work through the tunnels and ECC station, from manufacturing to supply to installation to testing to commissioning, in 15 months from the letter of award.
The exact length of rails to be laid wasn't included in the 1 pager tender notice, but I estimate it to be around 8 kms.
The bids have now been sent for technical evaluation which can take a couple months to complete. When that is done, the financial bids of the technically qualified bidders will be opened to reveal who's the lowest bidder and most likely contractor.
Contract: CT-36
Scope: Supply, Installation,Testing And Commissioning Of Ballastless Track In Underground Section Of Airport Express Line From Dwarka Sec-21 To ECC Dwarka Sec-25 Standard Gauge Corridor Of Delhi MRTS Project Of Phase-III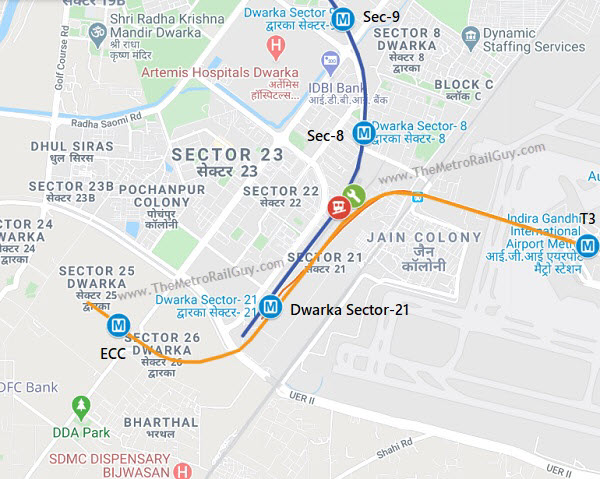 This small extension, being built entirely by the cut and cover method, has been under construction by YFC – MBZ JV through the Phase 3 project's Package CC-127 since January 2018 with a completion deadline of 30 months. An image from inside the tunnel can be viewed here.
The line's targeted opening has now been revised to match the exhibition & conference centre's completion which is slated to host the G20's 2022 summit.
Here's a really nice video uploaded on July 17 by Prakhar Sahay on YouTube which shows the ECC Station site and the actual ECC under construction from various spots. I'd recommend skipping to the 4:00 minute mark:
For more updates, check out the Delhi section of The Metro Rail Guy!
– TMRG