On Wednesday afternoon, BEML delivered a new Catenary Maintenance Vehicle (CMV) to Mumbai Metro's new Charkop Depot for performing overhead electrification (OHE) maintenance works on the upcoming 18.6 km Yellow Line-2A (Dahisar East – DN Nagar) and the 16.5 km Red Line-7 (Dahisar East – Andheri East).
Also known as an OHE Wagon, the vehicle was dispatched from BEML's Bengaluru plant, 1015 kms away, about a week and half ago, and was unloaded at the Charkop Depot's alternate unloading/receiving platform by Steel Carriers Infrastructure Pvt. Ltd. using a 250 MT Demag AC 250-1 crane.
The vehicle is meant for periodic inspection, patrolling and maintenance of overhead equipment. When both lines go live, this CMV will be used to attend sites where equipment has broken down, and will assist with erecting and restoring damaged catenary and contact wires.
The CMV comes with a lifting platform and crane with an interchange basket. Here's some information on its dimensions and features:
Length: 21336 mm
Width: 2900 mm
Height: 3845 mm
Max Speed: 65 kmph
Hauling Capacity: 60 T
Axles: 2 powered axles and 2 trailing axles
Features: Drivers cab at both ends, material cabin, lifting & swiveling platform, crane with interchangeable basket 40 Kva DG sets, cable drum mounting brackets, OHE mast guide device, roof mounted radiator and pantograph for checking OHE parameters, intercom facility between driver can and lifting platform.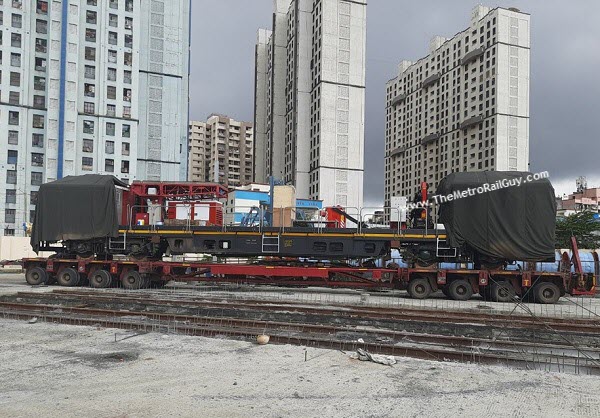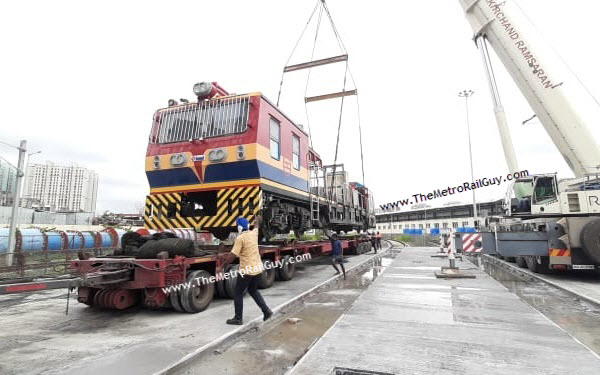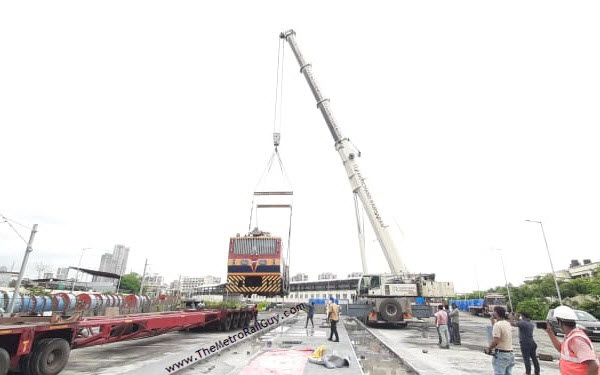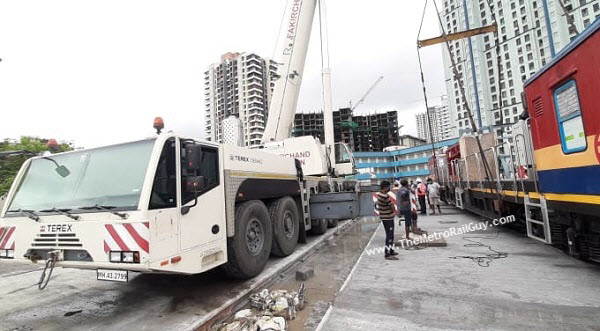 Images of Chennai Metro's CMV can be viewed here and here, while images of the Charkop Depot (located in Malvani, Malad West) and a cute model of it can be viewed here.
Meanwhile, there's still no word or indication from BEML officials or their tender page on when deliveries on the 84 6-coach BEML train-sets will be dispatched to Mumbai. The first train's bodyshell was ready in February – view images.
For more updates, check out the Mumbai section of The Metro Rail Guy!
– TMRG