Mumbai Metropolitan Region Development Authority (MMRDA) today invited bids from construction companies to build Mumbai Metro Green Line's Mogharpada Depot and supporting infrastructure on a 41 hectare land parcel in north-east Mumbai.
This development just two weeks after the Bombay High Court approved the construction of an approach road and depot-line's piers, under J Kumar Infrastructure's scope for package CA54, to the depot's site within the mangrove buffer zone.
The massive new depot will comprise of a double-decker stabling shed for housing thirty nine 6 coach trains (plus more in the future for Line-10 & Line-11) currently being procured for the under construction 35.2 km Line-4 and Line-4A which'll connect Wadala – Vikhroli – Kasaravadavali – Gaimukh through 34 stations.
Contract: MMRDA/4/MMRP/CA- L4C01
Brief Scope: Construction of Depot Infrastructures comprising Stabling Yard, Operation Control Centre and Administrative building, Maintenance and workshop buildings, Auxiliary substation, Finishing, Plumbing, Earthworks for land development, Compound wall, Road, Approach Bridge, elevated viaduct inside and outside connecting to first floor stabling and underground utility duct works Drainage, Rain Water harvesting etc. complete [including Architectural Finishing works and excluding Pre-Engineered Structure Works] for Car Depot at Mogharpada for Metro Lines- 4 , 4A, 10 & 11 corridor of Mumbai Metro Rail Project of MMRDA.
Estimated Cost: 5,96,60,33,035 (596.60 crore)
Period of Work: 36 months (3 years)
Document Sale Start Date: 04.08.2020, 18:00 hrs
Document Sale End Date: 18.09.2020,18:00 hrs
Pre-bid Meeting: 18.08.2020 at 1500 hrs
Bid Submission End Date: 21.09.2020 up to 1800 hrs
Date & Time of Tender Opening: 24.09.2020 at 1100 hrs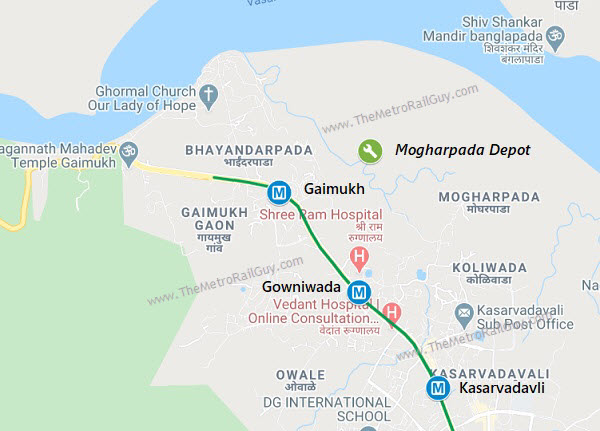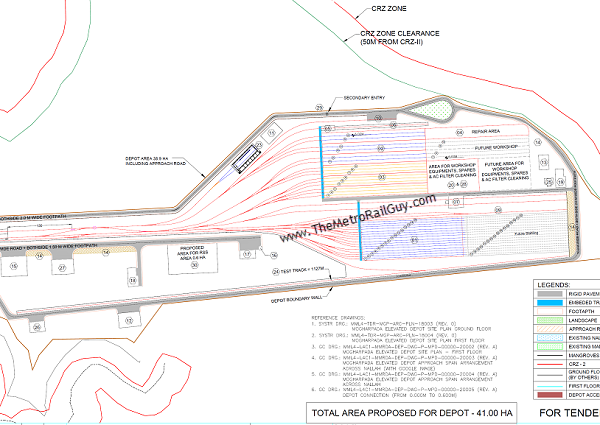 When built, Mogharpada Depot will be the largest metro depot in the city, slightly larger than the Yellow Line's Mandale Depot, and will comprise of a 5 storey administrative building and the following:
Stabling Shed (2 floors): 16 x 2 (210m each)
Future Expansion (2 floors): 16 x 2 (210m each)
Workshop Bay: 3 (6 lines) – 22 x 210m each
Future Expansion: 2 (4 lines) – 22 x 210 each
Repair Area: 22 x 210m
Inspection Bay: 3 (9 lines): 22 x 210m each
Blow down unit: 8 x 220m
Pit Wheel Lathe: 2 (12 x 30m)
Auto coach wash plant: 2 (10 x 60m + 10 x 20m)
Test track: 1127 meters
Shunting Neck: 202 meters
Coach Unloading Track Area: 60 x 15m
Receiving Sub Station
Follower @nawani10 on Twitter yesterday shared images of J Kumar beginning work on the depot-line. Check out the entire thread with some really nice images of Line-4/4A's construction here.
(8/8)

Location: #Bhaynderpada, Ghodbunder.

The upcoming Depot to host the #GreenLine pic.twitter.com/Ne0OFXreMj

— Mr. V (@nawani10) August 3, 2020
For more updates, check out the Mumbai section of The Metro Rail Guy!
– TMRG