BEML, Bombardier and CRRC are the three train manufacturing firms that have have submitted tenders (bids) to supply 234 metro coaches for Mumbai Metro's under construction 35.2 km Line-4 & 4A (Green Line) which'll connect Wadala – Vikhroli – Kasaravadavali – Gaimukh through 34 stations.
Mumbai Metropolitan Region Development Authority (MMRDA) invited bids for the procurement of these coaches, under package MRS2, on December 20, 2019. Technical bids were opened on May 29 to reveal its list of 3 bidders which I've been able to confirm, and now reconfirm, since.
Brief Scope of MRS2: Design, Manufacture, Supply, Testing and Commissioning of 234 Nos. Standard Gauge Cars Including Training of Line 4 And Extension Corridor [Wadala – Kasarvadavali – Gaimukh] of Mumbai Metro Rail Project of MMRDA.
• Completion Period: 144 weeks (33 months)
• Estimated Value: Rs. 1865 crore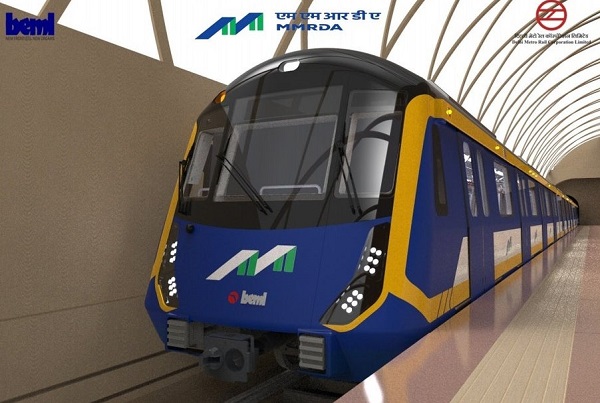 The procurement of Line-4's 234 coaches, signalling & platform screen doors will be financed through a 525 million euro loan from KfW for which an official loan agreement is yet to be signed.
Per the MMRDA's tender documents, Line-4's train-sets with light weight fully furnished modern passenger cars must be fit for Unattended Train Operations (UTO) confirming to Grade of Automation- GoA4 as specified in IEC 62290:2014 or latest. The trains shall initially be operated in GoA2 mode and will be progressively operated in GoA3/GoA4 mode (see GoA graphic for explanation).
The rake formation shall generally be as follows:
• 3 Car train formation: DMC – TC – DMC
• 6 Car train formation: DMC – TC – MC – MC – TC – DMC
DMC = Driving Motor Car; MC = Motor Car ; TC = Trailer Car
Line-4 Rolling Stock Specifications
Safe train speed: 90 kmph
Door opening times: 2.5 s (Max.)
Door closing times: 3.5 s (Max.)
Tare weight of a unit 126T for 3-car unit with weight of any car should not exceed 42T
No of axles per Car: 4
Maximum Static Axle Load: 17 tonne
Train length: 6 Car Train 136m (approximately)
Maximum Length over couplers for all cars: 23000 mm
Maximum Length over Car Body (including end fairings)
– DMC: 22,350 mm
– MC/TC: 22,010 mm
Maximum Width over Body: 3,200 mm
Maximum Vehicle Overhang: 3630 ± 175 mm
The bids have been under technical evaluation for over a month now. When that exercise is completed over the next couple months, the financial bids of the technically qualified bidders will be opened to reveal who's the lowest bidder and likely coach supplier for Mumbai's Line-4/4A.
For more updates, check out the Mumbai section of The Metro Rail Guy!
– TMRG