December 24 Update: This tender has been canceled.
Sept 16 Original Post:
Delhi Metro Rail Corporation (DMRC) today opened technical bids from global design engineering firms to reveal that four firms had submitted bids for the Detailed Design Consultant (DDC) contract of Navi Mumbai Metro's 7.12 km Line-2 (MIDC Taloja – Khandeshwar) and 3.87 km Line-3 (Pendhar – MIDC Taloja) including a new train maintenance depot at Khandeshwar.
DMRC was entrusted as the implementer of these lines by Navi Mumbai's City and Industrial Development Corporation (CIDCO) in 2019, and invited bids for this service in mid-July with an estimated cost of Rs. 12.57 crore and completion period of 48 months.
The role of the DDC typically includes, but is not limited to, producing and proposing alternate designs of all civil, architectural, building services, electrical and mechanical works.
Bidders:
Ayesa India Pvt. Ltd.
Kirti Structural Consultants Pvt. Ltd.
LKT Engineering Consultants Ltd.
SYSTRA MVA Consulting (India) Pvt. Ltd.
Contract: NMDD-01
Scope: Delhi Metro Rail Corporation (DMRC) Ltd. invites Open e-Tenders from Agencies, who fulfill qualification criteria as stipulated in Clause 1.1.3 of NIT, for the work, Contract: NMDD-01: Engagement of Detail Design Consultant (DDC) for Civil, Architectural and Building Services including E&M Works for MIDC Taloja to Khandeshwar (Line 2, 7.12 km ) and Pendhar to MIDC Taloja (Line 3, 3.87 km ) corridor including Civil& E&M works of Khandeshwar Depot of Navi Mumbai Metro Projects
The bids have now been sent for technical evaluation which can take a couple months to complete. When that is complete, the financial bids of the technically qualified bidders will be opened to reveal who's the lowest bidder and most likely design consultant.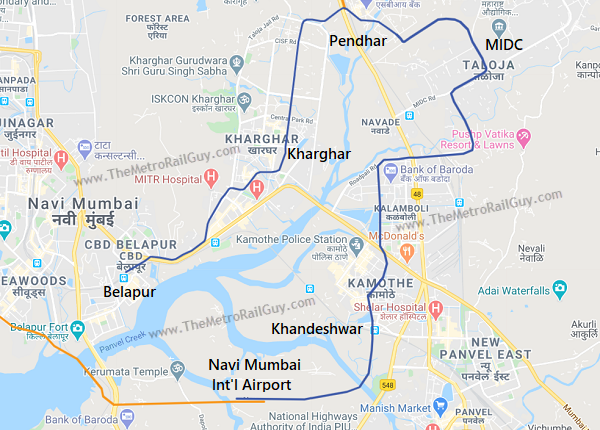 Geotechnical investigation along both lines' route commenced in August – view some images here.
As shared earlier, although they have dedicated line numbers, both of these "lines" are merely a southern extension of the decade long-under construction 11.10 km Line-1 which'll connect Belapur with Pendhar. Their detailed project report (DPR) was prepared by RITES and approved by CIDCO's board with an estimate of Rs 2820.20 crore (Line-2) and Rs. 1750.14 crore (Line-3).
Line-2: MIDC Taloja – Khandeshwar (7.12 km with 6 elevated stations)
Line-3: Pendhar – MIDC Taloja (3.87 km with 3 elevated stations)
In the future, a further extension of the line, named Line-4, will extend the metro by roughly 4.17 kms to the under construction Navi Mumbai International Airport in the Ulwe (Pargaon Dungi) – Panvel area of the city.
For more updates, check out the Navi Mumbai section of The Metro Rail Guy!
– TMRG