Bangalore Metro Rail Corporation Ltd. (BMRCL) today invited bids from construction firms for building the Green Line's new Anjanapura Depot as part of the 73.92 km Bangalore Metro Phase 2 project.
The 24.20 km Green Line connecting Nagasandra and Yelachenahalli is currently being extended in either direction by 3.77 km to Madavar/BIEC (under construction) and by 6.29 km to Anjanapura (testing just concluded), and this depot will aid in supporting train operations.
Contract: BMRCL/Phase2-/Reach-4B/AnjanapuraDepot/2020/73
Scope: Construction of metro rail depot structures, site development works, internal roads & drainage works in depot area at Anjanapura in Reach-4B line of Bangalore Metro Rail Project, Phase-2
Estimate: Rs. 69.29 crore
Period of Completion: 20 months
Date & Time of Submission of Tender: November 18 to 24 from 10:00 to 17:30 Hrs.
Date & Time of Opening of Tenders: November 25 at 15:30 Hrs.
This new depot lies just south of NICE Road, possibly at the Devika Rani Roerich Estate, and was granted Stage 2 clearance on June 4 by the Ministry of Environment, Forests and Climate Change.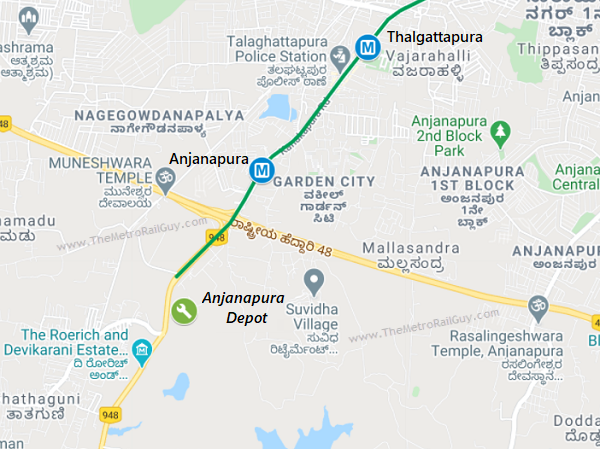 The tender documents are not yet available on BMRCL's site, so its period of completion, exact location and design details (number of stabling lines, workshop lines etc.) are unknown at this time. I'll add them in whenever information is available.
Update: Tender notice is now on BMRCL's site. I've included the period of completion above, but the notice has no design details.
Looking at the final contract values for the Pink Line's Kothanur Depot (awarded to ISGEC Heavy Engineering for Rs 150.83 crore) and Purple Line's Kadugodi Depot (awarded by Vascon Engineers for Rs 159.89 crore), it appears the Anjanapura Depot will be relatively small in size. That makes sense, especially since both these depots will be the primary / sole depots for their respective lines when developed.
With this development, for Phase 2 – now just one tender notice is pending for the Purple Line's Challaghatta Depot and Inter Modal Integration Hub (IMIH). STUP Consultants was awarded its Rs. 4.47 crore Detailed Design Consultant (DDC) contract in January.
For more updates, check out the Bangalore section of The Metro Rail Guy!
– TMRG