Three construction firms / consortia today submitted tenders (bids) to construct the first 7.955 km elevated section (ECV-01) of Chennai Metro's new 26.09 km Line-4 (Light House – Poonamallee) and 47 km Line-5 (Madhavaram – Sholinganallur), after officials from the Chennai Metro Rail Ltd. (CMRL) opened technical bids this afternoon to reveal its list of bidders.
This section of Line-4 with 9 stations from Power House to Porur Junction on Arcot Road will include a roughly 4.2 km double-decker integrated section with Line-5 with 5 stations between Alwartiru Nagar and Porur Junction.
CMRL had invited tenders (bids) for this section of the 118.9 km Chennai Metro Phase 2 project in July with an estimated cost of Rs 800 crore, and expects the assigned contractor to finish all civil works within 1080 days (2.95 years).
Bidders:
Hindustan Construction Company Ltd. – KEC International (HCC-KEC) JV
Larsen & Toubro Ltd. (L&T)
NCC Ltd.
Package: C4-ECV-01
Scope: CMRL invites open e-tender from reputed, experienced, financially sound, eligible applicants, who fulfill the qualificiation criteria as mentioned in the tender through International Open Competitive (IOCT) under Single Stage Two Envelope (Technical & Financial) system for the works as detailed below: Construction of Elevated Metro Stations at Power House, Vadapalani, Saligramam, Avichi School, Alwartiru Nagar, Valasaravakkam, Karambakkam, Alapapakkam Junction, Porur Junction & Associated Viaduct from Chainage 10027.102 to Chainage 17982.240 & all associated works.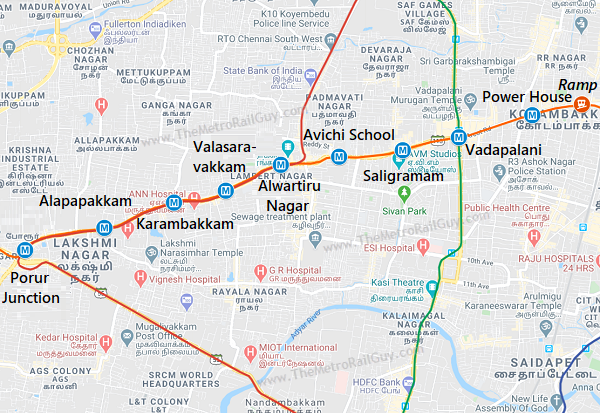 The bids have now been sent for technical evaluation which can take a couple months to complete. When that is done, the financial bids of the technically qualified bidders will be opened to reveal who's the lowest bidder and most likely contractor.
This section of the Line-4 will be partly financed by the Asian Infrastructure Investment Bank (AIIB) through a $356.65 million (approx. Rs. 2700 crore) loan. The loan's concept review was approved on December 13, 2019, and a formal appraisal decision is currently pending.
With today's development, here's the status of all packages for which bids have been invited so far. For Line-4, tender notices are still pending for its 10.07 km underground section connecting Light House with Meenakshi College.
| | |
| --- | --- |
| Contract | Status |
| Line-3: Package TU01 – 9 km tunnels from Venugoapl Nagar Shaft to Kelly's Station | Bids Invited in January 2020 (Bid Opening: Oct 31) |
| Line-3: Package TU02 – 12 km twin tunnels from Kellys Station to Taramani Road Junction | Bids Invited in January 2020 (Bid Opening: Oct 31) |
| Line-4/5: Package ECV-01 – 7.955 km elevated section with 9 stations from Power House to Porur Junction | Technical Bids Opened Today! |
| Line-4: Package ECV-02 – 7.945 km elevated section with 9 stations from Porur Junction to Poonamallee Bypass | Bids Invited in August 2020 (Bid Opening: Nov 10) |
For more updates, check out the Chennai section of The Metro Rail Guy!
– TMRG