India's National High-Speed Rail Corporation Limited (NHSRCL) today invited tenders (bids) for the first ever preparatory survey work to develop the Detailed Project Report (DPR) for the upcoming 767 km Mumbai – Pune – Hyderabad High Speed Rail (MHHSR bullet train) project in Maharashtra and Telangana.
This is the fifth of six new high speed rail corridors, planned by the Government of India in 2019, for which basic preliminary work has commenced to start construction on the project. Others already in the preparatory stage include the 865 km Delhi – Varanasi line, 886 km Delhi – Ahmedabad line, 741 km Mumbai – Nagpur line, and 465 km Delhi – Amritsar line.
NHSRCL/ADI/MH02/DPR/355/.2
Scope: Survey, Identification of Overhead, Over Ground, Underground Utilities And Identification Of Power Sourcing Options for substations along the proposed Mumbai – Pune – Hyderabad High Speed Rail Corridor.
Period of Work: 112 days
Bid Submission End Date: 17-Nov-2020 03:00 PM
Bid Opening Date: 18-Nov-2020 03:30 PM
On the Mumbai end of the line, the line's new civil infrastructure is expected to start from Thane, or thereabouts, and branch off from the 508.17 km Mumbai Ahmedabad High Speed Rail corridor's Package C3 for which a tender notice is currently pending due to land acquisition issues.
Stations on the Mumbai – Hyderabad HSR line are expected to come up at Mumbai (BKC), Panvel (possibly at the upcoming Navi Mumbai International Airport), Lonavla, Pimpri-Chinchwad, Pune, Baramati, Solapur, possibly Gulbarga, Humnabad-Zahirabad, Sangareddy and Hyderabad. Additional stations will likely be built en route for the slower service.
Update: NHSRCL's tender document indicates 10 new stations will be built at Navi Mumbai, Lonawala, Pune, Kurkumb/Daund, Akluj, Pandharpur, Solapur, Kala Buragai, Zaheerabad and Hyderabad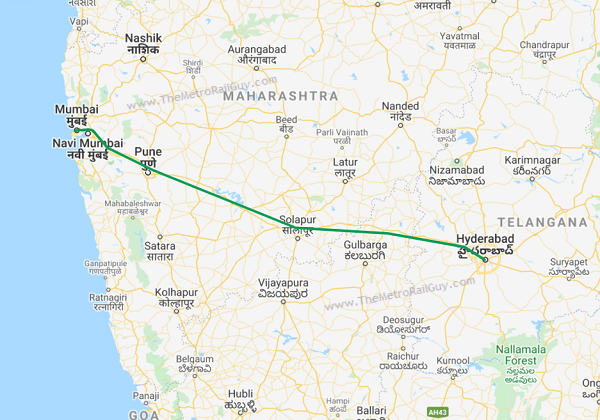 If the other four new lines' development is anything to go by, then in the coming days NHSRCL will invite bids for the following tenders:
Carrying out Ridership Study (Traffic Study)
Data Collection and Associated Survey Work
Preparation of Detailed Social Impact (SIA), Resettlement Action Plan (RAP)
Preparation of Environmental Impact Assessment (EIA)
Preparation of Final Alignment Design including LiDAR survey
Preparation of GADs of Crossing Bridges over Rivers Canals Railways and Roads Expressway NH SH and Major District Roads and GADs of proposed Stations and Maintenance Depots
This is the first HSR line planned in South India and will cut down the travel time between Mumbai and Hyderabad to less than 4 hours. With this development – the first tender notice is now pending only for the approximately 450 km Chennai – Bengaluru – Mysore high speed rail line.
For more updates, check out the High Speed Rail section of The Metro Rail Guy!
– TMRG