Here we go again. Noida Metro Rail Corporation (NMRC) on Saturday re-invited tenders (bids) for the construction of a 9.605 km elevated extension of Noida Metro's Aqua Line from Noida Sector-51 to Greater Noida Sector-2 through 5 elevated stations.
This is the third round of bidding for this section of the 29.7 km Aqua Line's 14.95 km eastern extension (Sector 51 to Knowledge Park V) which was approved for construction by Uttar Pradesh government in December 2019.
NMRC had originally invited tenders for this civil package in May with an estimate of Rs. 430.69 crore, received bids from 3 firms (1 of which was not a construction firm), canceled the tender in July to seek a better response, re-invited tenders again in September, and then received two bids from Sam India and GR Infraprojects in mid-November.
Contract: NGNC-01
Brief Scope: Part Design and Construction of Elevated Viaduct and 5 elevated stations viz NOIDA SEC -122, NOIDA SEC-123 GR. NOIDA SEC-4 ECOTECH-12 GR NOIDA SEC-2 (excluding Architectural finishing Works and PEB works of stations) from Chainage 0.00 m to Chainage 9605 m of Noida -Greater Noida Metro Rail Project.
Estimate: Rs. 491.99 crore
Completion Period: 24 months
Pre-bid Meeting: 03.12.2020 at 1500 hrs
Date & time of Submission of Tender: 18.12.2020 up to 1500 hrs
Date & time of opening of Tender: 18.12.2020 at 15.30 hrs
This package consists of 5 elevated stations at Noida Sector 122, Noida Sector 123, Greater Noida Sector 4, Ecotech 12 (Tech Zone) and Greater Noida Sector 2.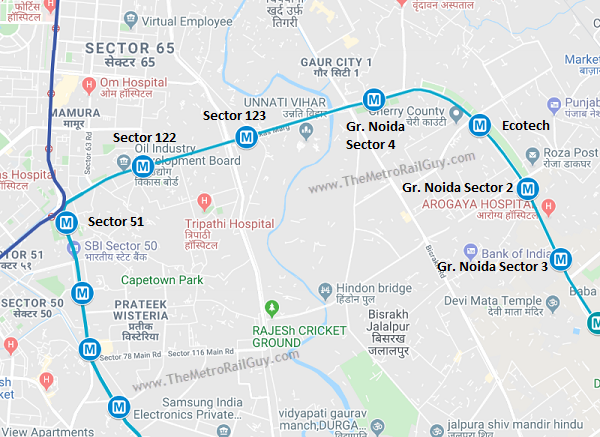 At a quick glance, none of the tender conditions have changed since the last round. The construction industry's leading firms had ample time to respond in the previous rounds and had their own reasons to sit out, so I'm not sure how the outcome will be any different this time around. Stay tuned…
For more updates, check out the Noida – Greater Noida section of The Metro Rail Guy!
– TMRG