Following the Asian Development Bank's approval this Tuesday for a USD 500 million loan to develop Bangalore Metro's 56 km Blue Line (Phase 2A and Phase 2B), their updated website now confirms the Japan International Cooperation Agency (JICA)'s participation to co-finance the line.

JICA's loan contribution to both phases is listed at USD 318 million (approximately Rs 2345 crore). Prior to this, the only source that listed JICA's possible involvement was the government-owned India Investment Grid (IIG) website, which lists JICA's loan as 'under preliminary negotiation' with the following figures:
Phase 2A's Estimated Cost: Rs. 5,227.35 crore
ADB: Rs. 1,479.46 crore
JICA: Rs. 893 crore (preliminary negotiation)
PPP Sources: Rs. 600 crore
State Govt: Rs. 1,690.46 crore
Central Govt: Rs. 734.22 crore
Phase 2B's Estimated Cost: 9,616.51 crore
ADB: Rs. 2,410.79 crore
JICA: Rs. 1,310.74 crore (preliminary negotiation)
PPP Sources: Rs. 800 crore
State Govt: Rs. 4,074.34 crore
Central Govt: Rs. 1,260.54 crore
The 18.2 km Phase 2A and 37 km Phase 2B projects aims to connect Silkboard – KR Puram – Bengaluru International Airport through 30 stations at an estimated combined cost of nearly $2 billion (Rs. 14,843 crore).
Phase 2A (ORR Line): Silkboard – KR Puram with 13 stations at KR Puram (interchange with the under construction Purple Line), Mahadevpura, DRDO Sports Complex, Doddanakundi, ISRO, Marathahalli, Kodibisanahalli, Kadubeesanahalli, Bellandur, Ibbalur, Agara Lake, HSR Layout, Silk Board (interchange with the upcoming Yellow Line).
Phase 2B (Airport Line): KR Puram – Kempegowda International Airport with 17 stations at Kasturinagara, Horamavu, HRBR Layout, Kalyan Nagar, HBR layout, Nagawara (Interchange with Pink Line), Veerannapalya, Kempapura, Hebbal, Kodigehalli, Jakkur Cross, Yelahanka (erst. Kogilu Cross), Bagalur Cross, Bettahalasuru, Doddajala (formerly Trumpet Junction), Airport City and KIAL Terminals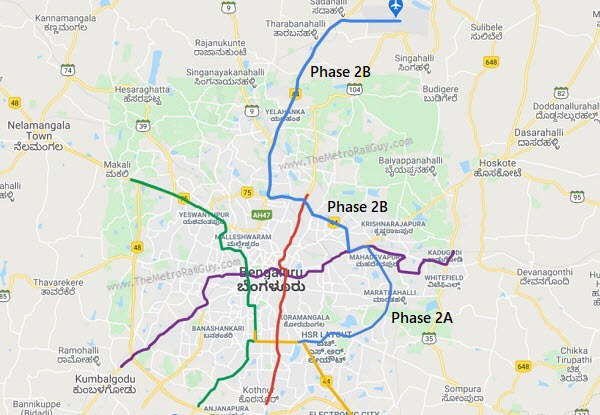 As shared earlier – For Phase 2A, Afcons Infrastructure & Shankaranarayana Constructions had emerged as the lowest bidders for the line's construction on the Outer Ring Road in October. Bids for Phase 2B's construction (3 packages) were invited in July with an original submission deadline of September 3. That date has been moved thrice, and the current submission deadline is December 22 at 3 pm.
Both phases are awaiting the Central Government's cabinet approval, but that is not a prerequisite to start construction work. Speaking to The News Minute, the BMRCL's MD indicated right after ADB's loan approval that they will, however, wait to start construction until the Central Government's approval comes through.
For more updates, check out the Bangalore section of The Metro Rail Guy!
– TMRG