Dineshchandra R. Agrawal Infracon Pvt. Ltd. emerged as the lowest bidder to construct the roughly 900 meter Thaltej to Thaltej Gam section of Ahmedabad Metro's 20.737 km Line-1, after officials from Gujarat Metro Rail Corporation (GMRC) opened financial bids on Tuesday afternoon.
Construction work for this elevated section (Pier 1 to Pier 59) of the 39.259 km Phase 1 project's Reach-2 was originally awarded in January 2017 to Tata Projects Ltd – China Civil Engineering Construction Corporation (TPL-CCECC) JV with a value of Rs 721 crore.
Work on it wasn't able to start due to land acquisition issues involving around 350 residential properties, and this led to a legal battle between TPL-CCECC and GMRC in 2019-2020, with TPL-CCECC claiming Rs 140 crore for the underutilization of its resources.
GMRC then initiated a change in alignment and design of Thaltej Gam Station to reduce the number of properties to be acquired, and then invited bids for its construction in September-end with an estimate of Rs. 109.23 crore and completion period of 18 months.
Financial Bid Values:
| | |
| --- | --- |
| Firm | Bid |
| DRA Infracon | Rs 118.85 crore |
| Ranjit Buildcon | Rs 140.44 crore |
| Sadbhav Engineering | Rs 164.93 crore |
Tender: GMRC/CONST/R2/Thaltej Gam To Thaltej/PH-1/2020
Scope: Construction of Elevated Viaduct from Dead End P1 to P59 in E-W corridor R2 including station Thaltej Gam, including western side transition span between station and viaduct for Ahmedabad Metro Rail Project Phase-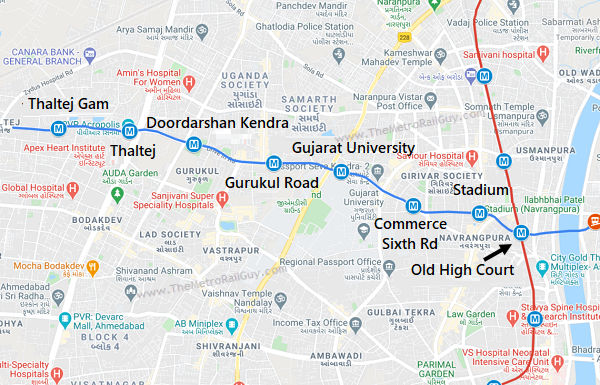 DRA's bid was 8.8% higher than GMRC's estimate, but in numeric terms just Rs 9.62 crore higher, so I don't think that's going to be a deal breaker for awarding its contract.
Basic ground work can be expected to start in Q1 2021 with full-fledged work in Q2 2021. This will obviously go on to become the last section of Line-1 and Phase 1 to open up, which I estimate would happen towards the end of 2023.
Good thing is that it's not located in the middle of the line (like Trilokpuri in Delhi or Tin Factory in Bangalore) otherwise it would have affected the start of operations on other sections.
For more updates, check out the Ahmedabad section of The Metro Rail Guy!
– TMRG