Chennai Metro Rail Ltd. (CMRL) on Saturday invited tenders (bids) to procure train-sets (rolling stock) for use on Chennai Metro's 118.9 km Phase 2 project which will feature 3 new metro lines, 127 stations and 2 train maintenance depots.
ARE03 is the first system package of Phase 2 and the tender documents specifying the trainsets' exact requirements will go live on the procurement portal on December 26.
The exact number of coaches to be procured has not been specified in the basic 1-pager online or newspaper (below) notices, but CMRL in the past has revealed they are looking procure 288 coaches and wet-lease 126 coaches to run services on the project's 3 corridors.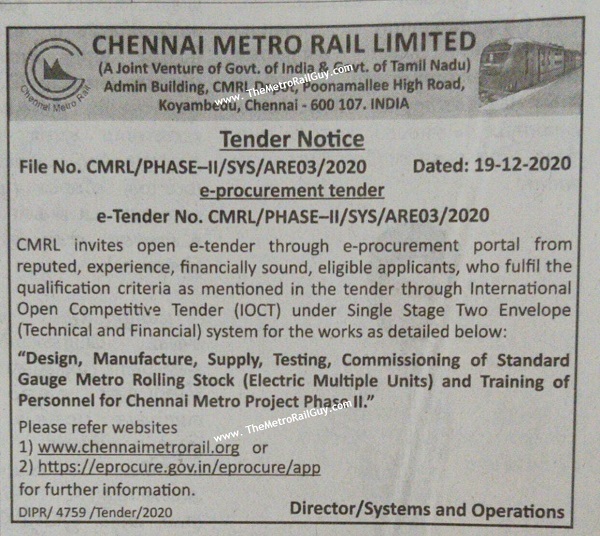 Unlike Phase 1 where CMRL procured 4-coach Alstom Metropolis trains, CMRL plans to procure and run 3-coach trains expandable to 6-coaches in the future. All trains will most likely be capable of being operated "driverless" on the unattended train operations (UTO) mode.
Package: Phase – II / ARE03
Brief Scope: Design, manufacture, supply, testing, commissioning of standard gauge metro rolling stock (electrical multiple units) and training of personnel for Chennai Metro Project Phase II
Duration of Contract: 1340 days + 730 days (DNP)
Pre-Bid Meeting: January 21, 2021
Bid Submission End Date: March 24, 2021 at 13:00 hrs
Technical Bid Opening Date: March 25, 2021 at 15:00 hrs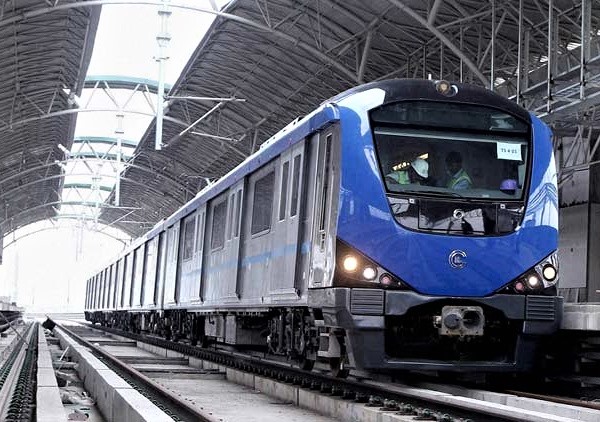 The financier of the rolling stock and other systems' procurement is unknown, but it could possibly be either Japan International Cooperation Agency (JICA) or the Asian Development Bank (ADB) which, besides a part of Line-3, is also evaluating a proposal to finance Line-4's 10 km underground section through a combined $780 million (approx. Rs. 5890 crore) loan.
I'll update the post if the bid documents, which go live on December 26, contain any further information on specifications, dimensions and funding.
December 23 Update: Bid documents are now live. This tender is only for the 26.1 km Line-4's coaches. CMRL is looking to procure 78 cars (26 trainsets of 3-car configuration) and will run them in a DMC+TC+DMC configuration with 67% propulsion. Also confirms train-sets must support Grade of Automation level-4 for "driverless" Unattended Train Operations (UTO)
A list of all Chennai Metro Phase 2 tenders (civil, systems) and their status can be viewed here.
For more updates, check out the Chennai section of The Metro Rail Guy!
– TMRG