Delhi Metro Rail Corporation (DMRC) today invited tenders (bids) for the supply and commissioning of 1200 MT of regular rails at the New ISBT Depot of Patna Metro's 30.91 km Phase 1 project.
The integrated New ISBT Depot on 76 acres of land will be used to stable and maintain trains for both lines after a modification to the project plan was made in Q4 2019.
Line-1: Danapur Cantonment – Khemni Chak (16.86 km, 14 stations)
Line-2: Patna Junction Railway Station – New ISBT (14.05 km, 12 stations)
Package: PT -7
Brief Scope: Manufacturing and Supply of 1200 MT 90 UTS, UIC 60, 13 m, Class A 880 Grade Rails, IRS-T-12-2009 for New ISBT Patna Depot of Patna Metro Rail Project of PMRCL.
Completion Period: 365 days
Pre-Bid Meeting: 07-Jan-2021 11:00 AM
Bid Submission End Date: 28-Jan-2021 04:00 PM
Technical Bid Opening Date: 29-Jan-2021 04:00 PM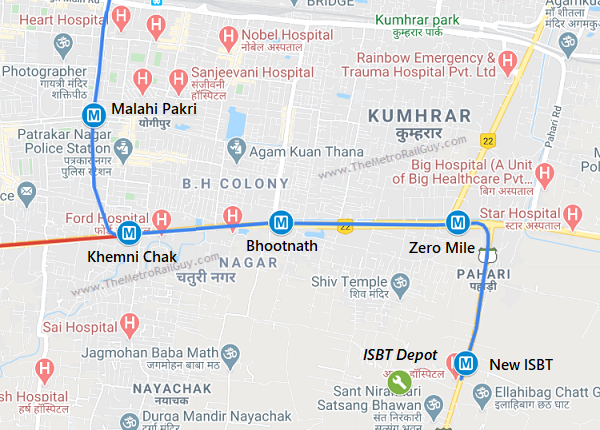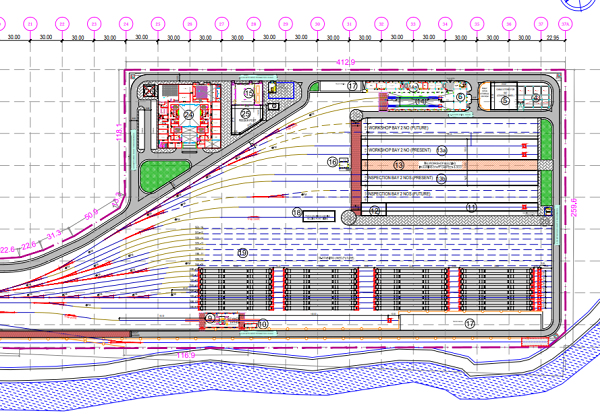 The depot's construction contract was just awarded to Quality Buildcon on December 2 after they emerged as its lowest bidder among 6 firms back in July. Per reports, land acquisition for it is planned to begin this week.
Package PT-7 is Patna Metro's third system-related package for which bids have been invited so far. The other two are:
Package PE-01
Scope: Design, Supply, Installation, Testing and Commissioning of Receiving cum Traction (RSS + TSS) and Auxiliary Main Substation (ASS) including High Voltage Cabling from Grid Substation for Patna Metro Rail Project.
Status: Technical bids opened on November 17 – 6 Bids received.
Package PE-02
Scope: Design Verification, Detail Engineering, Supply, Installation, Testing & commissioning of Electrical and Mechanical systems, Fire detection, Fire suppression system and DG sets of Corridor-1 and Corridor-2 Elevated stations and Depot.
Status: Bids invited on December 2. Current submission deadline is January 22.
A list of Patna Metro's packages (civil and systems) and their status can be viewed here.
Meanwhile, NCC and their subcontractors continue to carry out soil investigation work along the 6.107 km Malahi Pakri – New ISBT first section of Line-2 since work began in November. There's no visual confirmation of the piling rig, which was deployed at Bhoothnath, actually starting boring works. At the most they might have bored a test pile, but that's it.
For more updates, check out the Patna section of The Metro Rail Guy!
– TMRG