Navi Mumbai's City and Industrial Development Corporation (CIDCO) on Tuesday announced its decision to appoint Maharashtra Metro Rail Corporation (MahaMetro) to manage the pending construction and system engineering work of Navi Mumbai's 11.10 km Line-1 which will connect CBD Belapur with Pendhar through 11 elevated stations.
This decision was tweeted out by Sanjay Mukherjee, MD and VP of CIDCO on Twitter. Details on the agreement's detailed scope, value, timeline or deadline were not announced.
@CIDCO_Ltd has been examining the issue of #NaviMumbai#Metro and has decided to focus on it's competences and bring in the best in the field to buttress it's capabilities. Hence, it has decided to give #MahaMetro the task of completing the #Engineering and #Construction

#CIDCO shall continue to monitor the project closely. We have roped in #DMRC Delhi Metro Rail Corporation, Louis Berger Consultants and such experts in the field to take this task of commissioning the #Metro#Rail forward

We shall also focus on #Financing the project, #financial discipline, land monetisation along the corridor, enhancing non #Fare-box #revenues, and last mile connectivity. We remain committed to our cause of Transit Oriented Development.
Update: Here's CIDCO's press release: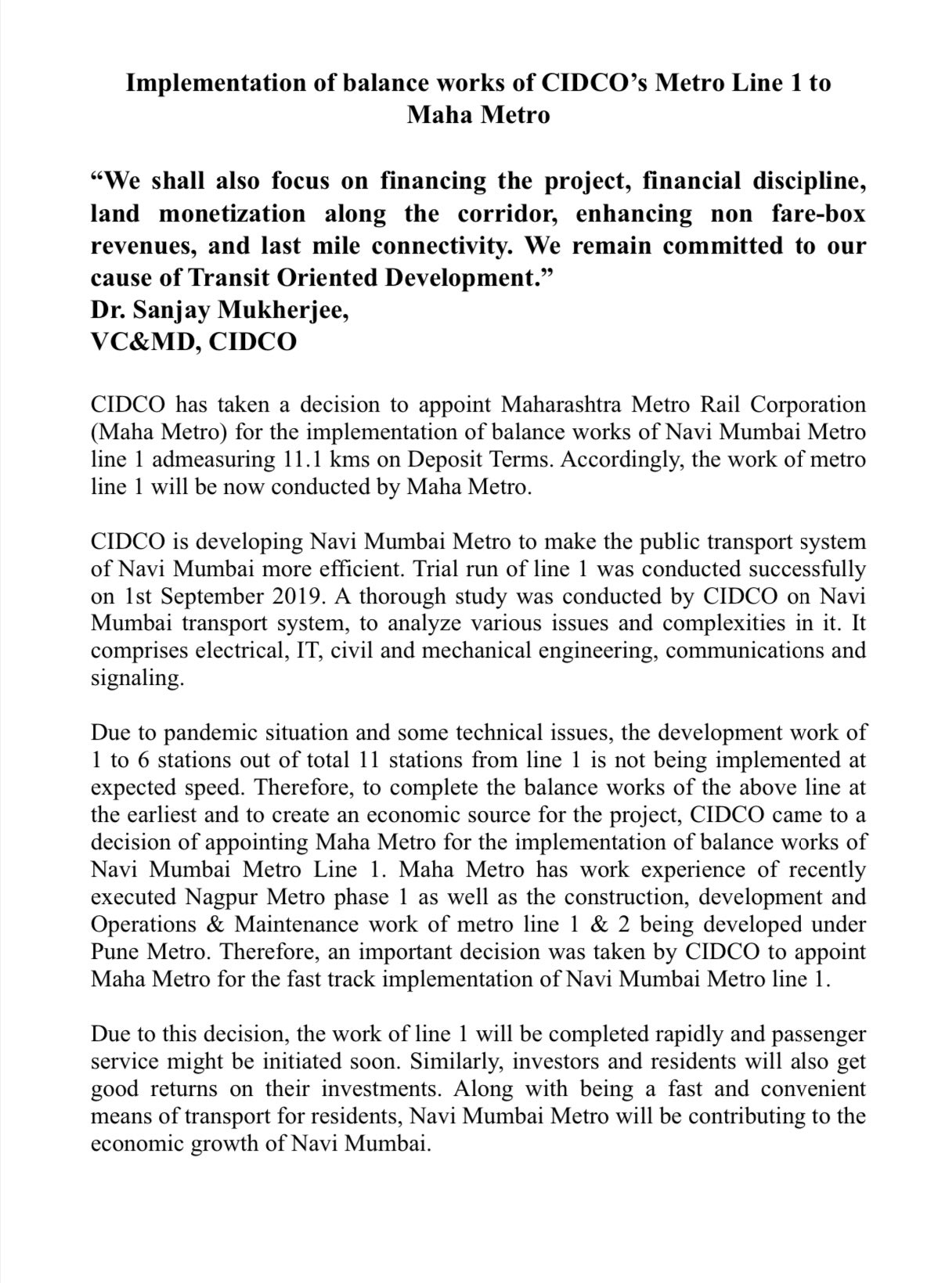 The project's Detailed Project Report was prepared by the Delhi Metro Rail Corporation (DMRC) and construction work had commenced in November 2011 with guidance from a General Consultant team comprising of Louis Berger Group and Balaji Railroad Systems.
The project has been delayed over the past decade due to delays in receiving key approvals (eg. ROB over Central Railways' lines), poor project management by CIDCO and contractors involved (see list), and a lack of general interest by the state government regardless of the political party in power.
Core civil work on the line is complete and now systems and architectural finishing work is pending at its 11 stations located at CBD Belapur, Sector 7, CIDCO Science Park, Utsav Chowk (Khargar), Sector 11, Sector 14, Central Park, Pethpada, Sector 34, Panchanand, Pendhar.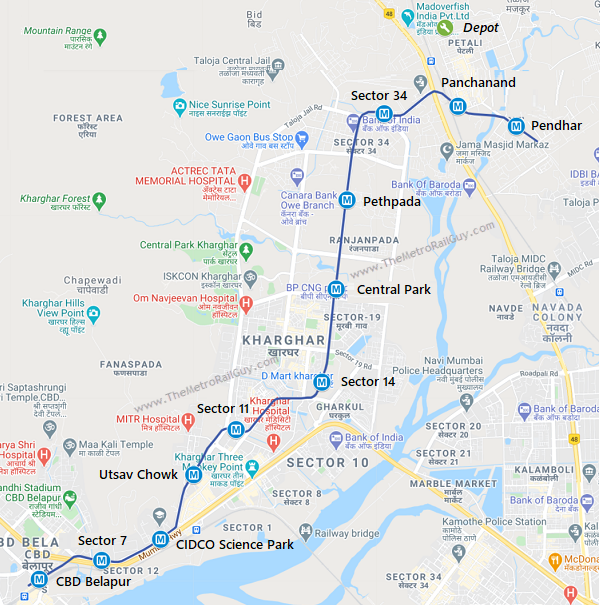 Trial runs began using CRRC Zhuzhou train-sets within Taloja Depot in August 2019 and on the main-line to Pendhar Station in September 2019. I haven't heard or read of testing being extended the other way towards Sector 34 though.
CIDCO had no experience in executing complex engineering projects – their core competence is in urban development which itself is dubious at best – so it's good to see them finally hand over Navi Mumbai Metro's pending work over to MahaMetro which is executing Nagpur Metro, Pune Metro, and Nasik Metro Neo. In the future, it might even manage Thane Metrolite looking at the scope of the General Consultant service's tender for the future development of these projects.
For more updates on India's metro systems, check out my Home Page!
– TMRG
Hat-tip: Subhash Srikantam