Chennai Metro Rail Limited (CMRL) on Thursday invited tenders (bids) for the construction of twin tunnels and 5 underground stations (Package UG-06) between Kolathur and Nathamuni of Chennai Metro's new 47 km Line-5 which will connect Madhavaram and Sholinganallur through 48 stations.
This roughly 5.8 km underground civil package lies towards Line-5's northern end and will be the only underground package of the entire line. This is so far the 11th tender notice for civil work on the 118.9 km Chennai Metro Phase 2 project and 3rd for Line-5.
Interesting to note that while tunneling and station work have been split up into 2 & 5 dedicated packages for the 45.813 km Line-3 (Madhavaram – SIPCOT 2), the scope of this line's package includes both tunnel and station work.
Brief Scope: Construction of underground stations at Kolathur, Srinivasa Nagar, Villivakam Sub-urban Station, Villivakam bus-terminus and Nathamuni with entry / exit, ventilation shafts, plumbing, earthmat, architectural finishes including signages etc. including twin bored tunnels from Kolathur retrieval shaft to Nathamuni launching shaft and ramps with U – section in corridor-5 of CMRL phase-II project
Package: UG06
Tender: CMRL/CON/PHASE-II/CORR-5/CP06/UG06/2021
Completion Period: 1395 days (3.8 years)
Pre-Bid Meeting: 23/02/2021 at 11:00 hours
Bid Submission End Date: 07/05/2021 up to 15:00 Hrs
Technical Bid Opening Date: 08/05/2021 at 15:00 Hrs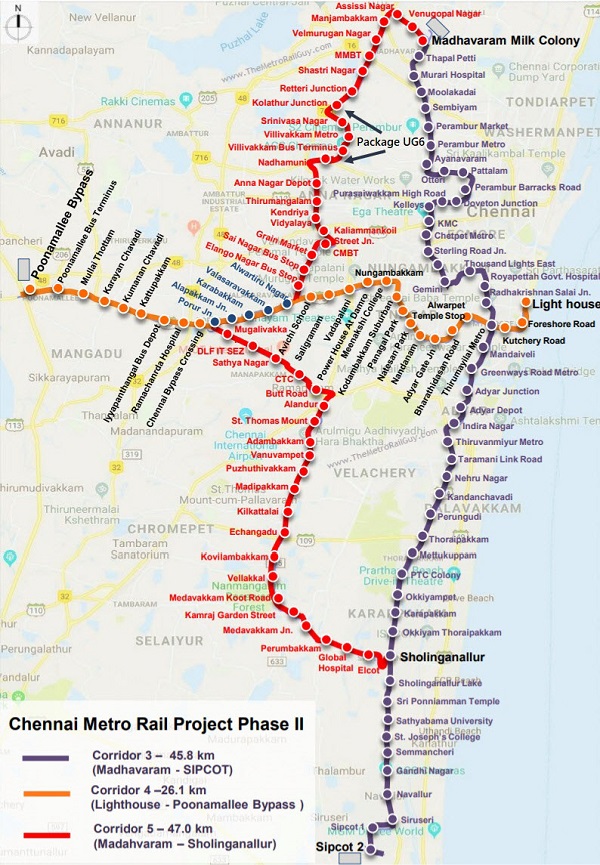 Like Line-3's 26.72 km underground section (Madhavaram – Taramani Link Road), this package will also be funded through an ODA loan by Japan International Cooperation Agency (JICA).
CMRL requires a minimum of 4 TBMs to be used for tunneling here and out of those 2 must be sourced from Japanese manufacturers, per the conditions laid out by JICA.
Here's a status of Line-5's civil packages so far:
| | |
| --- | --- |
| Line-4 & 5: Package C4-ECV-01 – 7.955 km elevated section with 9 stations from Power House to Porur Junction | Larsen & Toubro is lowest bidder |
| Line-5: Package C5-ECV-03 – 11.61 km elevated section with 11 stations from Puzhuthivakkam to Sholinganallur | Bids Invited November 11 |
| Line-5: Package UG6 – 5.8 km underground section with 5 stations from Kolathur and Nathamuni | Bids Invited Thursday (this post!) |
With this development, for Line-5 – tender notices are now pending for its Puzhuthivakkam – Porur Junction (approx. 10 km), Alwartiru Nagar – Nadhamuni (approx. 6 km) and Kolathur – Madhavaram (approx. 10 kms) sections.
A list of all Phase 2 civil & system packages and their status can be viewed here.
For more updates on India's metro systems, check out my Home Page!
– TMRG