Salasar Adorus Infra, a subsidiary of Salasar Techno Engineering, has been subcontracted the design, supply, installation and commissioning of tracks by Texmaco Rail and Engineering for the 73.92 km Bangalore Metro Phase 2 project.
Texmaco was originally awarded a Rs. 521.76 crore contract for Phase 2's track-work package in July 2018, but has been under financial duress over the past several quarters. Their scope of work included commissioning ballastless tracks within all elevated viaducts & tunnels, and ballasted tracks within the new depots.
The value of the subcontract to Salasar is valued at approximately Rs 252 crore. Per their press release, they will begin work in the second week of January 2021 and estimate to complete the project in the next 2.5 to 3 years in accordance with the guidelines of the Bangalore Metro Rail Corporation Ltd (BMRCL).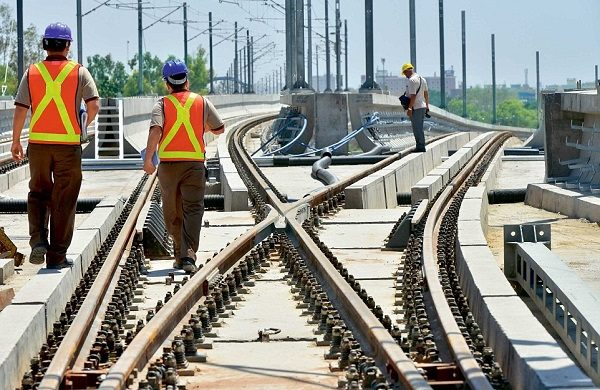 So far Texmaco has completed track-work for the 5.799 km commercial portion of the Green Line's 6.29 km Reach 4B (Yelachenahalli – Silk Institute) which will be inaugurated on January 14 and open on January 15.
Per BMRCL's November newsletter, on the Purple Line – Texmaco had completed 12106/17628 m for the 8.8 km Reach 2A & 2B (Mysore Road – Kengeri – Challaghatta) extension, and 0/30500 m for the 15.257 km Reach 1A & 1B (Baiyyappanahalli – Whitefield) extension despite 3150 m being handed over.
Salar's scope includes commissioning (single) ballastless track of about 175 km and they plan to complete a stretch of 5 km every month subject to the availability of the viaduct's completion and access.
For more updates on India's metro systems, check out my Home Page!
– TMRG
Hat-tip: Christin Mathew Philip