Workers from ITD Cementation India Ltd. on Friday launched the final of 2125 segments near Vydehi Hospital – a major milestone for constructing the 7.218 km Sitharama Palya (Visvesvaraya Industrial Area) – Whitefield extension of Bangalore Metro's Purple Line.
This section, referred to as Reach 1B of the 73.92 km Phase 2 project, is part of the 18.10 km Purple Line's 15.257 km eastern extension from Baiyyappanahalli to Whitefield. The contract for its civil construction was awarded to the ITD – ITD Cem India JV in April 2017 with a value of Rs 683.79 crore.
ITD Cem's team cast the first pier in November 2017 just north of Hope Farm Junction and then started launching segments in February 2018.
Reach 1B includes 7 new stations at Kundalahalli, Nallurhalli (formerly Vydehi Hospital), Sadaramangla (formerly Satya Sai Hospital), Pattandur Agrahara (formerly ITPL), Kadugodi, Channasandra (formerly Ujjval Vidyalaya) and Whitefield.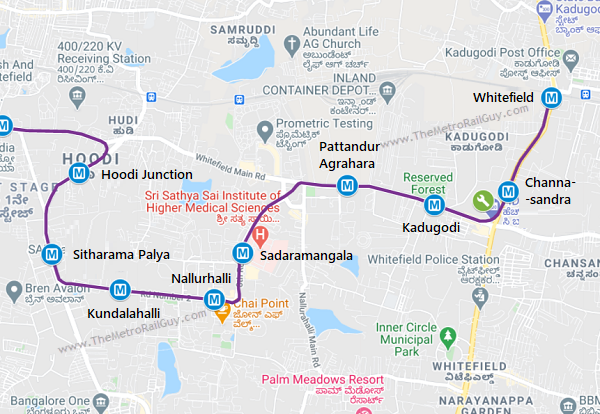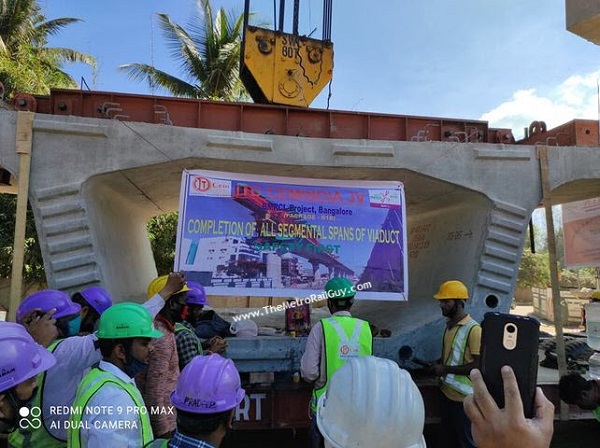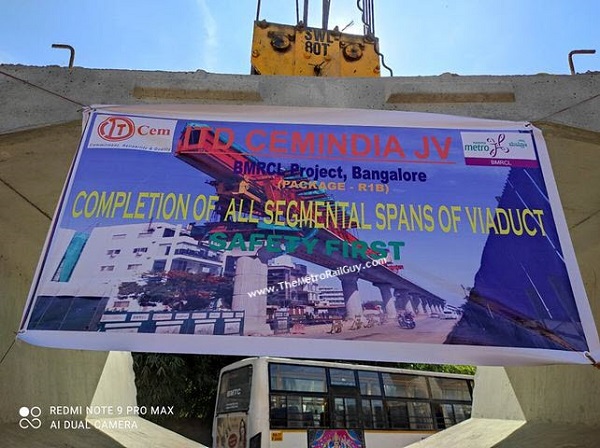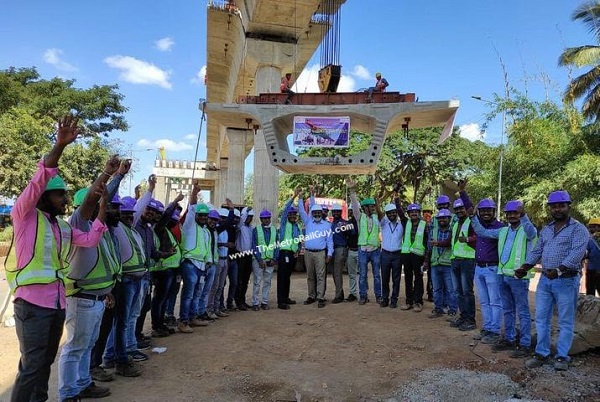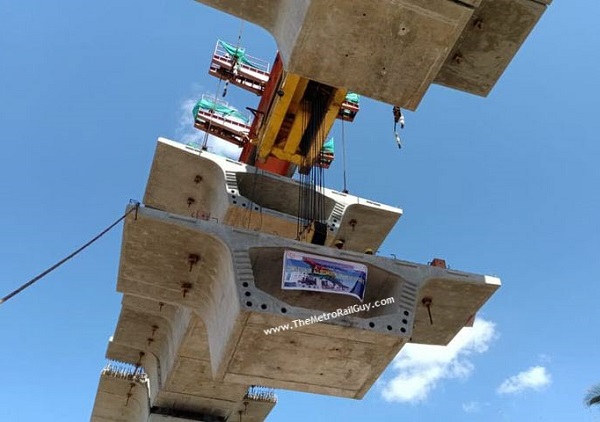 The start of commercial services on Reach 1B depend on either Kadugodi Depot getting ready by Vascon Engineers (see latest site images) for stand-alone services OR on the 8.039 km Reach 1A (Baiyappanahalli – Sitharama Palya) section getting ready by ITD Cementation – both of which are no less than two years away from happening at this time.
At Kadugodi, approval is still pending for cutting about 120 trees, while work for Benniganahalli Station (formerly Jyothipuram / Tin Factory) and its adjacent viaduct on Reach 1A was recently observed (see this and this) to have restarted by Twitter follower WhitefieldWoes after being paused for over two years.
BMRCL's latest October newsletter reports that a total of 610 properties have been acquired to finally close out the land acquisition process on Reach 1A and 1B, but 64 of those, which I assume are all on that Baiyappanahalli – KR Puram stretch, still need to be handed over to the engineering department for ITD Cementation to begin or resume work.
For more updates, check out the Bangalore section of The Metro Rail Guy!
– TMRG