ITD Cementation India Ltd. this weekend completed casting a second track crossover at Ovaripada Station for the 16.5 km Mumbai Metro Line-7 (Red Line) which will connect Dahisar East and Gundavali (Andheri East) through 14 stations.
Back in November, the team had cast the line's first crossover at Aarey Station. When the line becomes operational, both crossovers will enable Line-7's BEML train-sets to guide from one track line to another.
ITD was awarded this line's ballastless track-work system's contract in October 2018 which included its design, supply and installation. The turnouts for this crossover were supplied by Vossloh Cogifer Turnouts India Pvt. Ltd. and factory acceptance tests were conducted remotely through video conferencing in June due to the COVID-19 related lockdown.
Track installation work has been underway for Line-7 since at least May 2020 on its mid-section (New Ashok Nagar – Mahindra & Mahindra) built by J Kumar Infraprojects.
Here are some shots by MMRDA-affiliated Mumbai 2.0 handle on Twitter: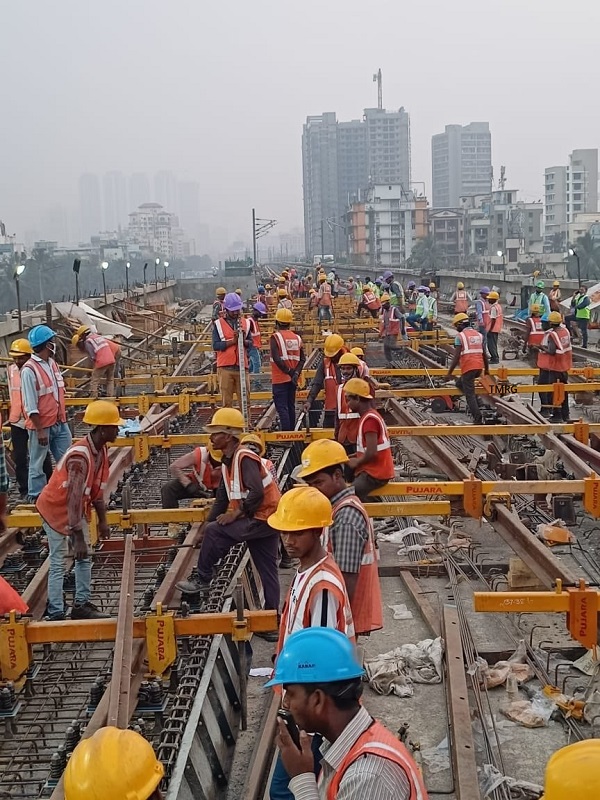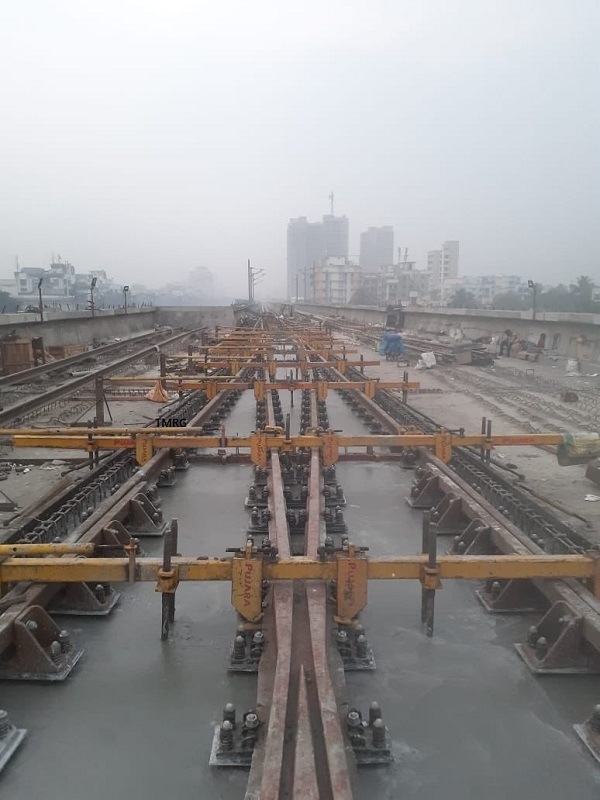 In my interaction with multiple contractors' employees on the civil and systems side – they all indicate they're under intense pressure by MMRDA to start operations in May 2021, the current deadline, which is not achievable.
The first of 96 6-car BEML trains for both Line-2 and Line-7 has still not been dispatched from Bengaluru. Per one of those sources – the first train to be sent will be unwired and all internal wiring will be performed locally at Charkop Depot.
Civil work for the approximately 900m depot-line and main-line (right outside the depot) is still ongoing with large gaps in both viaducts still present, so trial runs will not begin until at least Q3 2021. In the meantime – the MMRDA, like DMRC in the past, will likely host a grand media event within the depot to show the project is on-track while it's actually far from it.
When launched, initially MMRDA will open up the following roughly 8-9 km northern sections on both lines. Some of the stations within these might not become operational in the first round.
Line-2: Dahisar East to Dahanukarwadi with 9 stations at Dahisar East, Upper Dahisar Station (Anand Nagar), Kandarpada (Rushi Sankul), Mandapeshwar (IC Colony), Eksar, Borivali West (Don Bosco), Pahadi Eksar (Shimpoli, then Shimpawali), Kandivali West (Mahavir Nagar), Dahanukarwadi (Kamraj Nagar)
Line-7: Dahisar East to Akurli with 7 stations at Dahisar East, Ovaripada, National Park, Devipada, Magathane, Poisar (formerly Mahindra & Mahindra), Akurli (formerly Bandongri)
For more updates on India's metro systems, check out my Home Page!
– TMRG