SYSTRA MVA Consulting (India) Pvt. Ltd. in January won the General Consultant (GC) service contract for system works of Mumbai Metro's 24.9 km Orange Line-5 (Thane – Bhiwandi – Kalyan), 3.17 km Red Line-7A (Andheri East – CSIA Terminal-2) and 11.38 km Red Line-9 (Dahisar East – Mira Bhayander).
SYSTRA's selection among 5 bidders was made on the Quality cum Cost Basis System (QCBS) method in which the winner's selection is made through a combination of points scored in technical and financial evaluation.
Financial bids were opened on January 13, and I'll update this section when points for either category become available. From what I hear SYSTRA has already started hiring staff for the project.
Mumbai Metropolitan Region Development Authority (MMRDA) invited bids for this service in February 2020 and expects the period of work to last 42 weeks over the entire course of implementing the project. They opened technical bids in June 2020 to reveal the following 5 bidders:
Ayesa – Italferr JV
SMEC – RITES – Hill – MM JV
Egis Rail – AECOM JV
Systra MVA Consulting
DB Engineering
Contract / Tender No.: MMRDA/Metro- PIU/0002021
Brief Scope: Appointment of General Consultant for system works of Part of corridor of Metro Line 5 (Thane-Bhiwandi-Kalyan), Metro Line 7A(Andheri (E) to CSIA) , Metro Line 9 (Dahisar(E) to Mira Bhayander
SYSTRA's scope of work would typically entail providing MMRDA assistance in design, supervision, safety, quality control and contract management for all systems such as rolling stock, train control and signaling system, overhead catenary systems, power supply, telecom, automated fare collection (AFC), escalators etc.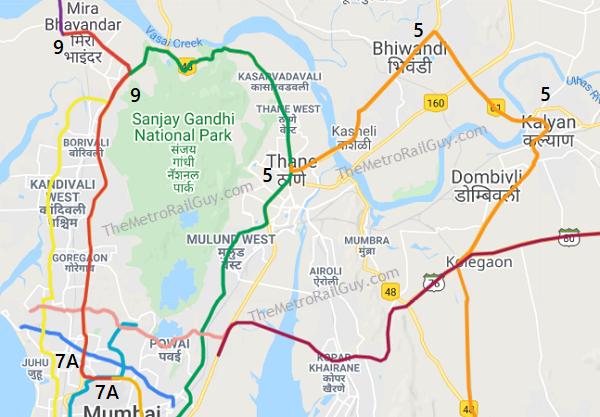 Back in August 2019, a consortium of SYSTRA – Consulting Engineers Group Ltd – SYSTRA MVA Consulting (India) was appointed as the General Consultant for civil works of these 3 corridors.
MMRDA has been unable to acquire land for Line-5's depot in Kon village due to stiff resistance from farmers refusing to sell, and I hear they're currently looking for alternate land presumably along the line's western alignment which is under construction by Afcons Infrastructure (Package CA28).
For Line-7A (Package CA48), I hear J Kumar Infraprojects might deploy one Terratec tunnel boring machine (TBM) previously used in Line-3's Package UGC-05 (Dharavi – CSIA T1) or UGC-06 (CSIA T1 – CSIA T2) to build twin tunnels between the ramp east of the Airport Colony Station towards CSIA T2 Station. This hasn't been finalized and I'll post about it when confirmed.
For more updates, check out my Home Page!
– TMRG
Subscribe to Free Email Notifications