February 26 Update: HRIDC has awarded RITES – SMEC JV HORC's General Consultant contract with a final contract value of Rs. 60,97.79.000 + GST, and 72 month deadline including one year of O&M period.
February 12 Original Post:
RITES – SMEC JV emerged as the lowest bidder for the 121.742 km Haryana Orbital Rail Corridor (HORC) project after Haryana Rail Infrastructure Development Corporation Ltd (HRIDC) opened financial bids on February 2.
Passenger trains on this new broad gauge semi high-speed rail line, approved by the Central Government in mid-September 2020 with an estimated cost of Rs 5,617 crore, will operate at a top speed of 160 kmph and provide connectivity through 17 stations along the Kundli – Manesar – Palwal (KMP / WPE) Expressway. Along with spur/link lines, the project's total length is approximately 144 km.
HRIDC had invited EOI applications in mid-July 2020, received 14 applications in September, rejected 8 applications in November and then invited bids from 6 shortlisted applicants. Technical bids were opened on December 16 and financial bids were opened on February 2.
Financial Bid Values (Lead Bidders):
| | |
| --- | --- |
| Firm | Bid |
| RITES – SMEC JV | Rs. 60.98 crore |
| AECOM Asia | Rs. 79.14 crore |
| AYESA | Rs. 89.63 crore |
| SYSTRA | Rs. 105.77 crore |
| Tecnica y Proyectos SA | Rs. 130.67 crore |
| ILF Consulting Engineers Austria | Disqualified |
Ultimately RITES-SMEC's selection was made on the Quality-Cost Based Selection (QCBS) method through a combination of points scored in technical bid and financial bid evaluation.
Contract: HORC/GC/2020/01
Title: General Consultancy Services for Haryana Orbital Rail Corridor (HORC) From Palwal to Sonipat via Sohna, Manesar and Kharkhoda in the State of Haryana.
Brief Scope: The objective of the consulting services (the "Services") is to provide General Consultancy Services for successful planning, basic & detailed designs, preparation of specifications, preparation of proposal documents and tender assistance, checking designs, project management and supervision including construction supervision, safety, quality and environmental management, interface management, testing and commissioning of the Haryana Orbital Rail Corridor (HORC) (the "Project"). The planning shall include O&M phase as well.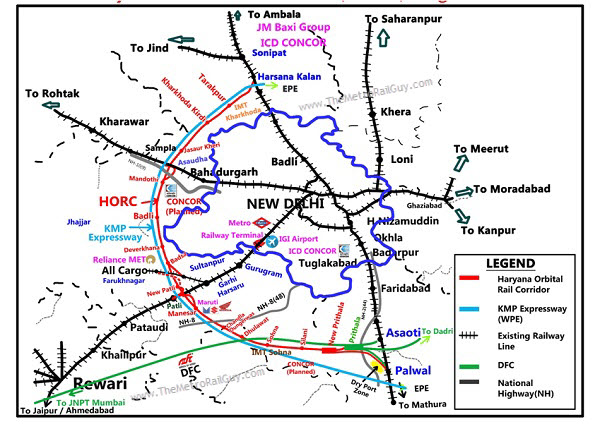 This contract will be financed by the Asian Infrastructure Investment Bank (AIIB), which in June 2020 cleared a loan concept to lend $400 million for its development.
This new rail corridor aims to bypass Delhi and provide interchange connectivity with the Indian Railways' main radial routes (eg. Delhi – Rohtak, Delhi – Ambala), the Dedicated Freight Corridor (DFC) at Pirthala (near Palwal), major logistic hubs and the 164 km Delhi – SNB – Alwar RRTS Line at Panchgaon.
For more updates, check out my Home Page!
– TMRG
Subscribe to Free Email Notifications