Madhya Pradesh Metro Rail Corporation (MPMRC) on Wednesday invited tenders (bids) for the construction of Indore Metro's 10.927 km MR10 Road Station – Gandhi Nagar Station section with 9 elevated stations on 'Super Corridor' road.
Package IN-03 is Indore Metro's second notice in the past fortnight (other was IN-02 for 7 stations between ISBT/MR10 Flyover and Radisson Square), and the very first integrated package with both viaduct & station work.
MPMRC now interestingly refers to Line-3 as Indore Metro's Yellow Line. This line of the Phase 1 project will form a ring around the city and connect Palasia – Railway Station – Rajwara – Airport – Bhawarsala via 30 elevated stations.
Tender No: 273/MPMRCL/2021/Package IN-03
Package: IN-03
Estimated Cost: Rs. 1000 crore
Deadline / Completion Period: 847 days (2.32 years)
Pre-Bid Meeting: March 31, 2021 at 11 am
Bid Submission End Date: April 30 2021 at 4 PM
Technical Bid Opening Date: May 1 at 4:30 PM
Brief Scope: Design and Construction of Elevated Viaduct between Ch.14+488 & Ch.25+415, viaduct connecting Depot leading upto interface location, Nine (9) Elevated Metro Rail Stations including all Civil, Structural, Roof structure, Mechanical, Electrical and Plumbing (MEP) works, Architectural finishes, Façade, Entry/Exits, FOB, Viaduct within the stations including Transition spans" for Indore Metro Rail Project Yellow Line.
The 9 stations will be located at Gandhi Nagar, Super Corridor 6, Super Corridor 5, Super Corridor 4, Super Corridor 3, Super Corridor 2 and Super Corridor 1, Bhawarsala Square and MR 10 Road. Scope also includes constructing a roughly 575m depot-line.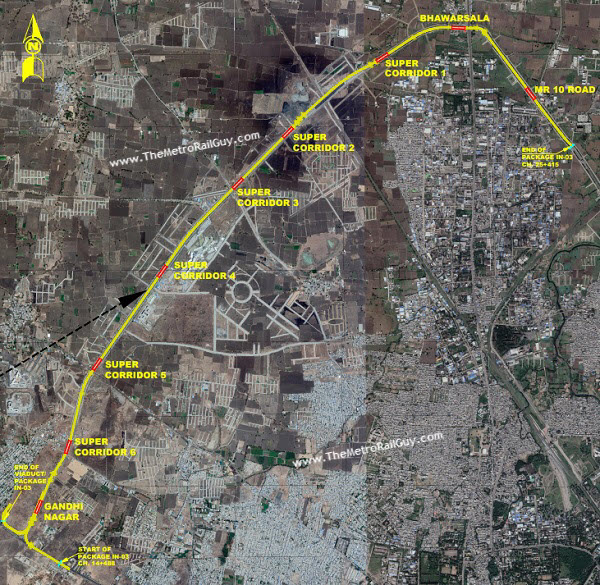 Per the notice, this package will be funded through equity contribution of Government of India (GoI) and Government of Madhya Pradesh (GoMP), and not by ADB – the chief lender of the project.
Things on this project – at least on the tendering front – are now finally moving along. Prior to recent developments, tendering had been on-hold for over 31 months since the 1st notice, for a 5.29 km viaduct, came out in 2018 and was won by Dilip Buildcon.
For more updates, check out my Home Page!
– TMRG