India's National High-Speed Rail Corporation Limited (NHSRCL) on Monday night invited tenders for preparing general arrangement drawings (GADs) to develop Detailed Project Reports (DPRs) for 2365 km of new High-Speed Rail lines.
Details are a little sketchy right now as the tender's basic scope doesn't provide the exact corridors and the tender documents will become available to download later on Tuesday morning.
But looking at the 2365 Km figure, current status of all DPR-related tenders (see table below), and past survey and traffic study-related tenders, I'm pretty sure it refers to the following 4 lines:
Contract: NHSRCL/CO/CA/GAD/2021/06
Scope: Preparation of General Arrangement Drawings (GADs) of Crossing Bridges over Rivers/Canals/Railways and Roads (Expressway, NH , SH and Major District Roads) and GADs of proposed Stations and Maintenance Depots for Detailed Project Report (DPR) of various HSR Corridors (About 2365 kms long)
Period of Work: 240 days
Bid Submission End Date: 15-Apr-2021 03:00 PM
Technical Bid Opening Date: 16-Apr-2021 03:00 PM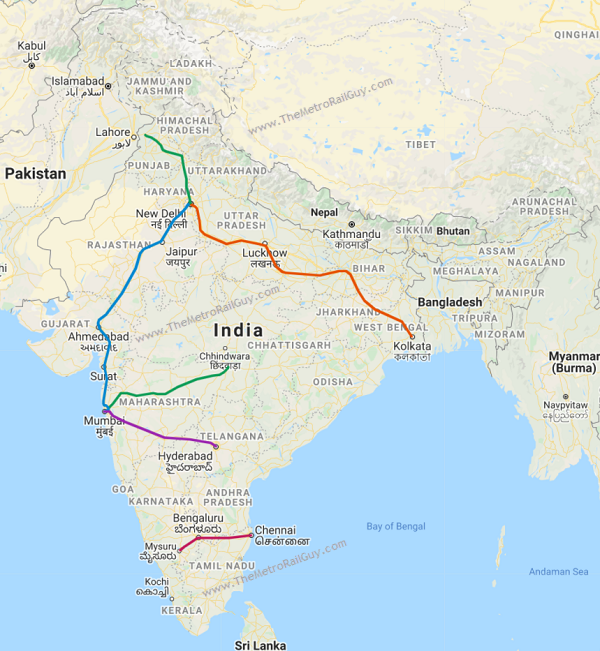 This GAD-related tender notice is significant as it's the very last of 7 types of tenders for all new HSR lines. The other 6 tenders are related to surveys (data collection / utility identification), studies (traffic & ridership / SIA / EIA) and alignment design (LiDAR).
If you check out each line's tender section linked below, you'll notice all 6 others have either been awarded or are in the technical bid evaluation stage – just weeks away from being awarded.
Here's a list of the winners or the current status for GAD preparation:
For more updates, check out my Home Page!
– TMRG